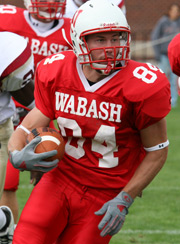 Geoff Walker's 93-yard punt return for a touchdown early in the second quarter woke up a sluggish Wabash football team, and a strong second half pushed the Little Giants to 5-0 on the season with a 42-7 win over a game Oberlin squad. Wabash is in first place in the North Coast Athletic Conference standings with a 3-0 record heading into next week's game at Wooster.
Click here to see 16 more photos from the game.
Wabash drove 10 plays and 60 yards on its first possession, giving up the ball on a failed fourth down try deep in Oberlin territory. The Little Giants' second possession went 63 yards and seven plays, but ended with a fumble.
Head Coach Chris Creighton used the team's sluggish start as a lesson for life. "Sometimes even when you're playing well, things don't go your way," he said. "And whether it's football or life, you have to stay positive and good things will happen."
Walker's school record-tying and conference record-setting punt return of 93 yards was precisely what Wabash needed to get untracked. The Little Giants scored touchdowns on four of their next five possessions, marching 65, 72, 83, and 77 yards for scores.
Wabash's dinged up defense bent, but only broke once when Oberlin went 70 yards for its only touchdown of the game with 5:10 remaining in the third quarter. After the Yeomen scored, Wabash's nationally ranked scoring defense picked off two Oberlin passes and forced three-and-outs on the next four possessions, all while the Little Giant offense found its rhythm.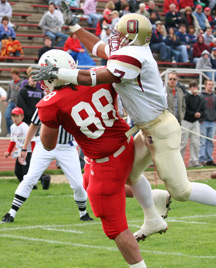 "We really didn't say much to them at halftime," said Creighton. "We talked to the seniors, but I think everybody knew the first half was flat. It was a tale of two halves."
Wabash outgained the visitors (1-4 overall; 0-2 NCAC) 458 yards to 309 for the Yeomen. The Little Giants forced three interceptions and sacked Oberlin quarterbacks five times. Click here for statistics from the game.
Meanwhile, quarterback Russ Harbaugh enjoyed another amazingly efficient game, hitting 21-of-30 passes for 300 yards and three touchdowns. He hit seven different receivers, and this week tight ends Graham Nelson (2) and Tim Schirack (1) were on the receiving end of his touchdown strikes. Geoff Walker, who had 114 yards on two punt returns, led the team with five receptions for 75 yards.
Tailback Don Juan Brown saw little action while resting a sore knee. Chris Ogden plowed for 69 yards and a touchdown on nine carries, while Brandon Roop gained 66 yards and scored once on nine carries.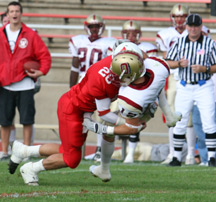 Wabash was again led defensively by sophomore linebacker Adrian Pynenberg, who made nine tackles, 3.5 tackles for loss, 2.5 sacks, picked off a pass, and batted away two others. Fellow linebacker Frank Knez (subbing for starter Aaron Selby) had seven stops, while Josh Foster had six crushing tackles and a pass breakup. Chris Greisl came off the bench to post three tackles, one for a loss, and he made a 38-yard return on an interception. Andy Deig had the team's other interception.
Extra Points: Russ Harbaugh's streak of three straight games without an interception ended in the third quarter Saturday. Harbaugh had gone 17 straight quarters without throwing an interception. For the season he's thrown 13 touchdowns with just two interceptions... Oberlin managed as many points as any team has against Wabash's defense this season, Wabash had allowed just 22 total points going into Saturday's game for an average of 5.5 per game (second best in Division III)... Tamarco White sat out the game to rest a sore groin... Offensive lineman John Maddox and tailback Don Juan Brown saw only a few plays... Geoff Walker's 93-yard punt return equals the all-time Wabash record held by Hall of Famer Frank Roman, who went 93 yards for a score vs. Rose-Poly in 1946. It broke the NCAC record of 88 yards set by Marcus Lamb of Wittenberg in 1995 vs. Earlham... Wabash's offense had only one 10-play or longer drive, but had five drives of seven or more plays.
Photographs by Jim Amidon:
On the home page and above right: Geoff Walker took this punt return 93 yards for a touchdown and tied the record for longest punt return in school history.
Above left: Tight end Graham Nelson caught two touchdown passes on the day, including this 13-yarder in the third quarter.
Bottom right: It was a game of big hits, including this shot by Josh Foster on Oberlin receiver Chris Schubert.