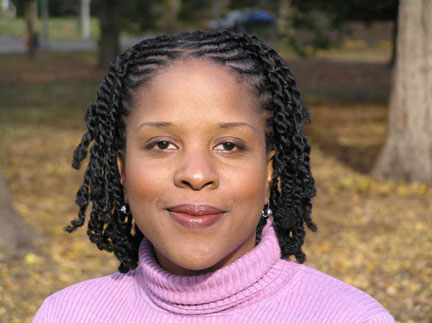 Award-winning novelist Tayari Jones will read from her work at 8 p.m. on Thursday, September 8 in Korb Classroom in the Fine Arts Center. Jones is a guest in the Will Hays, Jr. Visiting Writers Series, and will spend a few days in residence at Wabash.
Tayari Jones was born and raised in Atlanta, Georgia where she spent most of her childhood with the exception of the one year she and her family spent in Nigeria, West Africa. Although she has not lived in her hometown for over a decade, much of her writing centers on the urban south. "Although I now live in Illinois," she explains, "my imagination lives in Atlanta."
Her first novel, Leaving Atlanta, is a coming of age story set during the city's infamous child murders of 1979-81. Jones herself was in the fifth grade when 30 African American children were murdered from the neighborhoods near her home and school. When asked why she chose this subject matter for her first novel, she says, "This novel is my way of documenting a particular moment in history. It is a love letter to my generation and also an effort to remember my own childhood. To remind myself and my readers what it was like to been eleven and at the mercy of the world. And despite the obvious darkness of the time period, I also wanted to remember all that is sweet about girlhood, to recall all the moments that make a person smile and feel optimistic."
Leaving Atlanta received many awards and accolades including the Hurston/Wright Award for Debut Fiction. It was named "Novel of the Year" by Atlanta Magazine, "Best Southern Novel of the Year," by Creative Loafing Atlanta. The Atlanta Journal-Constitution and The Washington Post both listed it as one of the best of 2002. She has received fellowships from organizations including Bread Loaf Writers Conference, The Corporation of Yaddo, The MacDowell Colony, Arizona Commission on the Arts, and Le Chateau de Lavigny ( Switzerland.)
Jones is a graduate of Spelman College, The University of Iowa, and Arizona State University. Currently, she is an Assistant Professor of English at The University of Illinois, Urbana-Champaign, where she teaches creative writing. Her second novel, The Untelling, was published by Warner Books in April of 2005.
The Will Hays, Jr., Visiting Writer Series, through a generous gift from the Hays family, was established in 2002 at Wabash to celebrate Mr. Hays' distinguished career as a writer, public servant, and a tireless supporter of secondary and higher education. Currently, every two years, the series, coordinated by the English Department, recognizes a prominent creative writer selected from a broad range of categories to reflect Will Hays' own varied writing interests.
To read about Tayari Jones, visit her website at http://www.tayarijones.com/ Jones talk is free and open to the public.