Aaron Selby '06 doesn't look back, he just plans ahead.
The Little Giant linebacker will be back on the field this fall after suffering a season-ending broken leg in Wabash's fourth game last fall.
"It was one of those things; it was a minor setback," the Southmont High School graduate said. "I had been very blessed and very protected in my football career. I've played football since third grade and I never had a broken bone, never a major injury."
Selby was the Little Giants' leading tackler through three games last year and was coming off a solid sophomore season as an All-NCAC Honorable Mention player.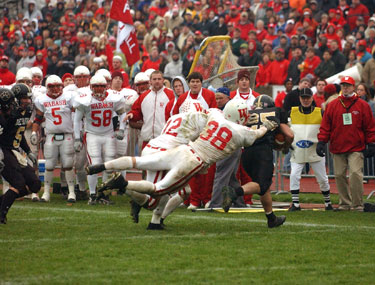 The 6-2, 210-pounder doesn't plan on just coming back this fall, he plans on being better. "A lot of people said you're not going to be the same when you come back, and I say well, what if I'm better? It never went through my mind that I'm going to let this thing keep me down from playing football."
Selby is going through preseason workouts and conditioning with his teammates. He was a full participant in spring practice. The senior has eight screws and a metal plate in his leg
"I'll admit I'm a little tentative right now. I'm a little leery as far as that goes. I'm looking forward to seeing how it's going to feel. It's probably going to hurt a little and it may take me a little longer to get myself back into shape."
Wabash coach Chris Creighton watched several defensive starters go down last year and is thrilled to have Selby back on the field. "Aaron has been a player for us every year since his freshman year," Creighton said. "He's a great person on top of that. He helps change our defense. He's such a good athlete, so instinctive and just a great football player."
Selby's value extends beyond the field too. "Absolutely, he knows this program and we expect him to be a leader," Creighton said.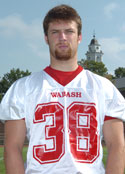 Selby welcomes the leadership role. "I think we feel the responsibility and leadership needed from us," Selby said of his senior teammates. "We're here to get the team to bond together. That's one of the things that take precedence at camp. We've been put in positions of leadership in the off-season but as far as producing now when it's time to practice and time to get guys ready to go, that's going to be the major challenge for us."
Selby admits his senior teammates expect big things this fall. "We have high aspirations," he said. "We have one of the most talented teams to ever come through here. We have nine returning starters on defense."
He isn't shy to add an undefeated season and playoff run is the seniors' expectation.
Hewitt is Wabash College's Director of New Media/Web Editor.