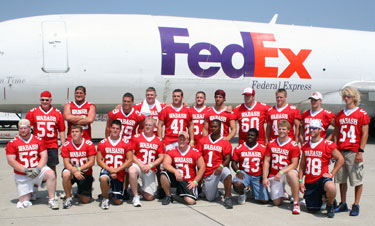 INDIANAPOLIS, Ind. - Members of the Little Giant football team defended their FedEx charity plane pull title Saturday morning at Indianapolis International Airport.
Twenty members of the football team grabbed a tethered line and pulled the 145,000-pound FedEx jet 12 feet in 6.7 seconds.
But the real winners of the day were Special Olympic athletes who will benefit from the fundraiser. More than 30 teams raised a minimum of $1,000 each to participate in the plane pull.
The teams, most from the Indianapolis metropolitan area, combined to raise $51,000 for Indiana Special Olympics.
The Wabash athletes danced with other teams, shook hands with U.S. Army soldiers passing through the international terminal on their way home, and interacted with a few of the Special Olympic athletes prior to taking the tarmac.
The Little Giant guys had a good time and were pleased to claim their second straight win, but were a bit disappointed when they couldn't duplicate their record-setting time of just over 5 seconds a year ago.
But with stifling heat and humidity, as the attached photo album will show, they did have fun.