Wabash earned three first place votes and were picked to finish second in at the end of the 2005 North Coast Athletic Conference football standings by the NCAC coaches and media.
The Little Giants, coming off of a 4-3 conference mark and 6-4 overall in 2004, received 83 votes in the coaches poll. Wittenberg (7-3, 5-2 in 2004) picked up 96 points, including six first place votes, to earn the top spot in poll. Ohio Wesleyan (5-5, 5-2) took the final first place vote to finish third with 76 points. Defending conference champion Wooster (11-1, 7-0) was selected fourth (71 points). Allegheny (5-5, 4-3), Denison (6-4, 4-3), Earlham (4-6, 3-4), Oberlin (1-9, 1-6), Kenyon (2-8, 2-5), and Hiram (0-10, 0-7) round out the poll.
The media poll was nearly identical with only minor changes near the bottom of the poll.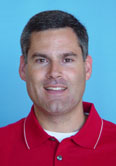 After both ballots were released, Little Giant Coach Chris Creighton said his team's seniors will be the key to the Wabash season. "I really believe they can be the difference," the fifth-year coach said. "We have almost all of our starters returning on the offensive line. We have a talented receiving corps, and great quarterbacks coming back along with nine starters on defense.
"Our concern is we're coming off a tail spin, losing four of our last five games last season, so we're going to empower our juniors and seniors to get us off to a good start."
Wabash opens the 2005 football season September 10 at home against Kalamazoo College.
2005 NCAC Football Coaches Poll
1. Wittenberg (6)...............................96
2. Wabash (3)...................................83
3. Ohio Wesleyan (1).........................76
4. Wooster........................................71
5. Allegheny......................................68
6. Denison........................................48
7. Earlham........................................43
8. Oberlin.........................................28
9. Kenyon.........................................25
10. Hiram...........................................12
2005 NCAC Media Poll
1. Wittenberg (21)............................255
2. Wabash (2)..................................219
3. Ohio Wesleyan (3)........................210
4. Wooster.......................................183
5. Allegheny.....................................163
6. Denison.......................................127
7. Earlham.......................................100
8. Kenyon..........................................75
9. Oberlin..........................................66
10. Hiram...........................................32