Natural Heritage
by Mai Feng '08 • July 19, 2005

Share:
Indiana residents are surrounded by an abundance of natural beauty.
And in West Central Indiana you don't have to go far to find plenty of nature's wonders.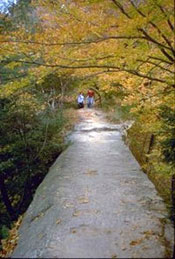 Sugar Creek, a clear running, unpolluted stream which cuts across west-central Indiana provides beautiful natural backdrop for generations in Montgomery County. By doing a canoe or kayak trip, you can experience the beauty of Sugar Creek - stop along Turkey Run and Shades State Parks or hunt for rocks, fossils and Indian beads.
Indiana Dunes, the national lakeshore which runs for nearly 25 miles along southern Lake Michigan, contains 15 miles of beaches, as well as sand dunes, bogs, marshes, swamps, prairies, rivers, oak savannas, and woodland forests. More than 350 species of birds have been observed in the park. It has one of the most diverse plant communities of any unit in the U.S. National Park System with 1418 vascular plant species including 90 threatened or endangered ones.
Besides the strikingly beautiful landscape and diverse ecosystems all over the state, Indiana is also noted for year-round outdoor activities. More than 20 state parks provide wonderful opportunities for hiking, camping, fishing and many other fascinating activities.
To learn more about natural beauty of State of Indiana and Montgomery County you can visit the Indiana Department of Natural Resources website.
Feng is from Xiangtan Hunan, China.