"If some day you're not feeling well, you should remember some little thing I have said or done and if it brings a smile to your face or a chuckle to your heart then my purpose as a clown has been fulfilled."
- Red Skelton, a Hoosier native.
The late Red Skelton, a Vincennes native, knew how to make people laugh. The tradition of a good time and a hearty belly laugh continues in Indiana today.
Central Indiana boasts five unique comedy clubs, all in or near Indianapolis.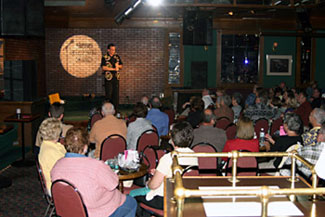 If you're looking for something a little different, check out Comedy Sportz Indianapolis, located in the Mass Avenue Theatre and Arts District.
Comedy Sportz presents live improvisational comedy, like Second City Chicago, every weekend. Two teams of local improvisers use suggestions given by the audience to create sketches, jokes, and puns in a competition to win The Meaningless Trophy. With fresh suggestions every night, no two shows are ever the same. Check out Comedy Sportz on Massachussett's Avenue. The area has a variety of restaurants and clubs.

If improv isn't your thing, Indianapolis has four other comedy clubs: Cracker's Comedy Clubs, One-liner's Comedy Club, and Quincy's all use the comedic talents who tour the nation's top clubs.
Many of the nationally touring comedians featured in the Indianapolis clubs appear regularly on the nationally syndicated Bob & Tom Radio Show, broadcast in 150 markets.
Elliott '08 is from Carmel, Indiana.