Steve Charles, director of publications at Wabash and editor of Wabash Magazine, was named "Man of the Year" by the Indianapolis Association of Wabash Men at its annual Valentine's Party.
Charles, who has served Wabash for 10 years, received the honor that has been presented to men and women for almost 30 years.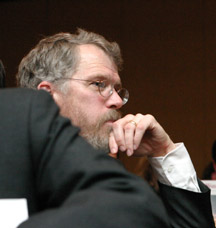 Brad Johnson, president of the IAWM, said, "Your keen ability to listen carefully and always ask the right questions have made you the perfect fit for Wabash's culture. Wabash men like their stories, and over the last 10 years no one has told better Wabash stories than you. Your pride in Wabash and its graduates is evident in all that you do: you make every student, every faculty member, every alumnus feel as though their particular story is worthy of being chronicled in the pages of Wabash Magazine."
The event, held at the downtown Westin Hotel in Indianapolis, was attended by 120 alumni, spouses, and friends. Because Charles is "always the photographer at our events," IAWM Board member Jon Pactor arranged for disposable cameras to be placed on every table so guests could photograph Steve.
Charles joined the Wabash public affairs office in March 1995 having spent the previous decade as an award-winning writer and editor at the Children's Better Health Institute, publishers of children's magazines such as Jack & Jill, Turtle, and Child's Life.
His transformation of Wabash Magazine has resulted in the tripling of letters and class notes submissions have more than quadrupled. He has also attracted award-winning free lance writers for the magazine, including Pulitzer Prize winners.
For more information see: