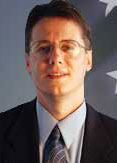 Dr. Mike Adams, a criminology professor at the University of North Carolina at Wilmington and conservative columnist, will speak at 7:15 p.m. Thursday at Wabash College.
Adams, a regular columnist for Townhall.com, will speak in Hays Hall. The title of his talk will be "Threats to Liberty in Higher Education. His appearance is sponsored by The Commentary.
His speech will be followed by an opportunity to ask questions and a book signing.

For more information see: