Goldberg Stresses Conservative Politics, Not Party
by Howard W. Hewitt • October 27, 2004

Share: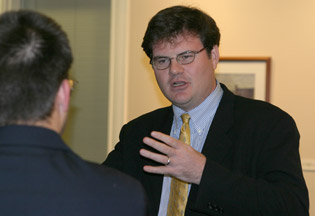 The label 'conservative columnist' follows Jonah Goldberg wherever he goes and he wears it proudly. He is frequently compared to humorist P.J. O'Rourke, a compliment he would prefer to downplay.
He stresses conservative, but not necessarily Republican, themes in his nationally syndicated newspaper column. His approach was the same during his talk in the Wabash College Chapel Wednesday evening.
Most in the crowd of nearly 200 came to hear Goldberg's thoughts on the 2004 election. He didn't disappoint with the humor-laden anecdotes and opinions, but might have surprised some with his approach.
"I'm far more anti-Kerry than I am pro-Bush," Goldberg said. But the columnist ran off a litany of issues many people don't like about either candidate.
"John Kerry is fundamentally an unlikable guy," he said. "He's astoundingly, shockingly unaccomplished. And, he's just plain wrong."
But Goldberg promised fairness and he wasn't overly kind to President George Bush either. "I take great pride in being a conservative; I don't take great pride in being a Republican."
The 31-year-old then ran off a list of government programs that have had huge budget increases during the Bush administration's four years. "George Bush hasn't vetoed a single spending bill yet," the writer admonished.
Goldberg has built a national following with his columns for National Review Online and his syndicated column. He's known for his humor, strong writing and sometimes surprising opinions.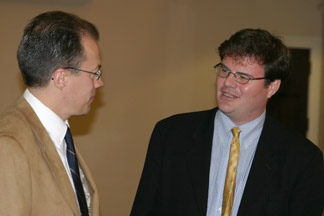 In recent weeks he's visited quite a few college campuses and finds interest in politics higher than ever before.
"Everywhere I go people are more interested in this election than in past elections," Goldberg said (talking at left with Wabash Professor J.D. Phillips). "The general dynamic of all college campuses tends to hold constant with about 20 percent of the liberals really active and 20 percent of the conservatives really active. Everybody else hangs out in the dorm room and watches football and has normal lives."
It was the humor and somewhat even-handed approach that appealed to student Daniel Yelfimov '06.
"I did go see (columnist) Ann Coulter last year (at Wabash) and she was very harsh," said the junior, who was proudly wearing his Mitch Daniels t-shirt. "What I really appreciated about this guy was he presented the Kerry side, of course it was more leaning toward his (Goldberg's) views. He even poked some jokes. But he also talked about Bush.
"He's a conservative but not a Republican hard core. He's a conservative hard core. I really appreciated the fact that he was willing to say what he didn't like about Bush. That's something you usually don't get when you invite a conservative speaker."
Goldberg thinks students like Yelfimov are more interested, in part, because of the Internet and 9-11.
"Even though the memory of 9-11 has faded, you still get a sense that college kids understand the stakes in this election are just bigger than they used to be," he said. "This is the second election dominated by the Internet. The Internet is so much bigger even than in 2000. College kids who don't normally read newspapers probably get a lot more news than they used to because they're on the web a lot."
Goldberg followed his remarks by taking questions for nearly 20 minutes. He was surprised no one asked him who he believed would win the election.
"If I had to bet, and I wouldn't bet much, I would bet on Bush," he said. "I would bet on Bush for a bunch of reasons but none of them are great. It's just a lot easier to see scenarios where Bush wins. For Kerry to win he has to win Pennsylvania, Ohio and maybe even Florida. But he really has to win Ohio or Florida; if he doesn't win either he loses. There are all these places that are must wins for him.
"All Bush has to do to win is win the states he won last time because of the distribution of electoral votes. What got him 270 in 2000 now gets him 278. But I think it's going to be close.
"My guess is whoever has the wind at their backs going into Election Day will win very decisively. My much more tentative guess is that will be Bush. But it also means these late breaking stories can change the dynamics."
Goldberg appears frequently on television talk-news shows. His column runs regularly in the Crawfordsville Journal Review and The Indianapolis Star. His Wabash College appearance was sponsored by Student Senate, The Commentary and the Young America's Foundation.