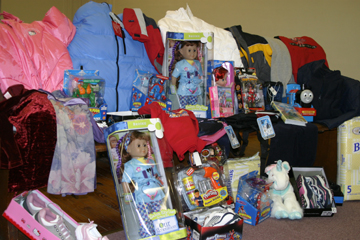 Thanks to the students of Wabash College, the holidays will be cheery and bright for three local immigrant families.
The Student Senate answered an appeal from the Well Baby Clinic, a non-profit organization that provides free health care for the people of Montgomery County. The Clinic, which is part of the Christian Nursing Service, has been serving a record number of children in recent months and has run low on funding. The outbreak of the flu virus has put added pressure on the Clinic's resources.
Chris Amidon, nurse manager of the Clinic, asked the Wabash students for a donation that could be used to provide gifts to eight children, from infants to eight years old, in three Mexican immigrant families who now live in Crawfordsville.
"I called Mark Shreve and requested $400, which I thought would be enough to buy a coat, pair of shoes, and a toy for each child," says Amidon. "I was surprised when I came to pick up the check that the donation was for $500."
The money was used to purchase warm winter coats for the children, and each child got a new pair of shoes or boots. Additionally, Amidon was able to buy socks, diapers, hats and gloves for the children, as well as a range of dolls, toys, videos, and backpacks.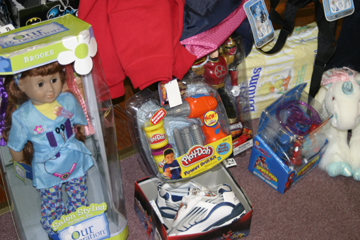 "I can't say enough about the generosity of the Wabash students, not just with this gift, but what they do each year for the Clinic through their community service projects and other fund-raising initiatives," said Amidon. "These families are new to our community, don't speak English, and the children don't even have socks to wear to school.
"I just wish the students were able to see the faces of the children who will benefit from their gifts. They really have made a huge difference in the lives of these families."