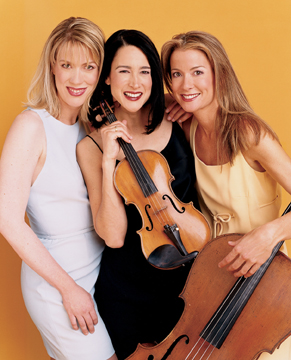 CRAWFORDSVILLE, Ind.— Wabash College's Visiting Artists Series will present a concert by Eroica Trio on Wednesday, December 3 in Salter Concert Hall in the Fine Arts Center. The performance starts at 8 p.m.
In celebration of the arts at Wabash, admission to all Visiting Artists Series events are free. However, you must obtain your free tickets at the Fine Arts Box Office before attending Visiting Artists Series productions. Currently this show is fully reserved. To be placed on the waiting list, call 765-361-6411.
"Passionate," "edgy," "sexy," and "in your face" aren't words usually associated with chamber music. But never before has there been an ensemble quite like the Grammy-nominated Eroica Trio—three beautiful women with a dramatic flair for Baroque music. Pianist Erika Nickrenz, violinist Adela Pena, and cellist Sara Sant'Ambrogio combine for a sound that has been described as "technically brilliant," "playful," "emotional," and "powerful."
Since its founding at the Julliard School in 1986, Eroica Trio has performed for sold out crowds around the world and has received rave reviews for its numerous performances at Carnegie Hall.
For more information on the Eroica Trio, visit their web site at: http://www.eroicatrio.com/