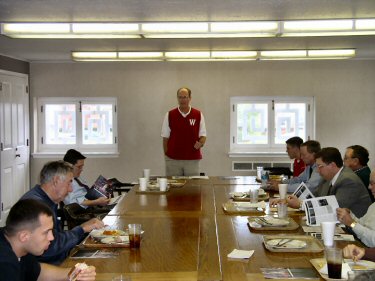 The Sugar Creek Association of Wabash Men hosted head basketball coach Mac Petty at their monthly luncheon on November 21, 2003. Coach was joined by assistant coach Jason Mulligan and senior players Matt Storm and Zeljko Gavaranovic.
Coach Petty talked about this year's returning players and what appears to be a talented corps of new recruits. Coach lauded the recruiting efforts of Coach Mulligan, stating that the new members of the team, combined with a solid returning group, will allow the Little Giants to be much more of an up-tempo team.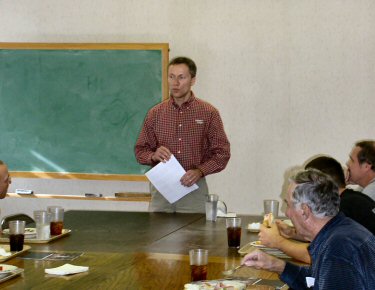 Sugar Creek Association president Tim Morrison '88 hosted the luncheon and outlined a number of upcoming events for the group. It promises to be a great basketball season and an activity-filled year for the men of the Sugar Creek Association.