Five Wabash students spent the summer at Camp Grier in Old Fort, North Carolina. Their stories all had a similar tone: They left campus wanting to make a positive impact on others. They returned having been impacted themselves.
Much of the students' time as counselors was spent doing outdoor activities with kids, such as ziplining, rock climbing, and swimming. But in the end, they learned, too. Jimenez didn't know how to swim before going to Camp Grier. Jonathan Silva '24 learned how to build a fire. Alex Ngaba '24 overcame his fear of flying insects and worked with bees on the camp's farm. Will Melcher '24 took a backpacking trip in the wilderness. Trevor McKinney '24 attended the camp to "prove to myself that I could make it on my own."
But the impact of Camp Grier went far beyond learning how to navigate the outdoors. It led to self-discovery.
"Being a camp counselor is an amazing experience. I think it's something everyone should try," Melcher said. "I think it's very different, but in a good way. It teaches you a lot, but it also helps you learn a lot about yourself. I think it's a very valuable way to spend your summer."
Frank Jimenez '24 decided to spend his summer in the wilderness because he wanted to give kids an opportunity he never could have imagined growing up.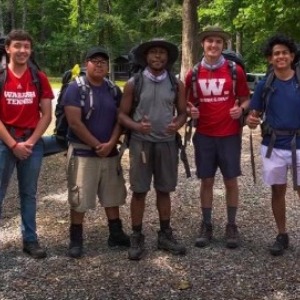 "I definitely had a lot of self-growth and I discovered more of what makes me unique," Jimenez said. "I realized my own self worth and that I'm capable of doing a lot more than I originally thought. We all have our issues, but deep down inside, I realized that I've been able to manage through them and make a difference."
Jimenez is the son of immigrants. His father wasn't a prominent figure in his life growing up. Working with kids at the camp who ranged in age from elementary to high school, he saw a common theme: The kids needed someone to look up to. He knew that feeling all too well.
"I want to be that role model for other kids," he said.
The more time Jimenez spent as a counselor during the summer, the more he realized the impact he was making.
"One of my coworkers said, 'You didn't have someone to mold you. You had to mold yourself.' I became the man that I wish I would have had in my life growing up," he said.
Silva was born in Nicaragua, and saw the chance to attend Camp Grier as an opportunity to return to a landscape that felt more like home. Although, one of his requests before attending the camp was that he not be in charge of little kids.
"I thought I would not be good with them," he said. "Well, the first thing they did was pair me with a group of little kids. They taught me so much. They taught me how to slow down, appreciate and get excited over little things. It woke up my childhood."
This was the first time Silva had been away from his family during the summer. He and the campers had something in common.
"Even as a 19 year old, I was homesick," he said. "So I understood. I visited places that remind me of my culture, like going to visit a Mexican restaurant and speaking Spanish with the people there. Being able to speak my language made me feel more at home. Being able to express myself in a place I'd never been made me miss home a little bit less."
Before camp, Silva thrived in his independence. He learned quickly that teamwork would be essential as a counselor.
"Before camp, I was the guy that could just do it myself. 'I'll do everything. Don't worry about it.' At camp, I couldn't do that," he said. "That's a recipe for disaster. When I was at camp, I had to get my hands dirty. Stepping out of my comfort zone was great."
By the end of his time there, Silva had a palpable sense of the impact he'd made.
"One of my last groups started to cry because they didn't want to go home," Silva said. "I almost cried with them. As silly as that sounds, it just made me feel like I did a great job."
Alex Ngaba grew up in a village in the Central African Republic. He came to Indiana in 2016 after his family fled from home when a civil war broke out. He hadn't left Indiana since he'd arrived.
Ngaba was thankful for the type of opportunity he never would have had in Africa.
"Over there, they don't have many opportunities," he said. "I'm really glad that I had the opportunities at Camp Grier working, interacting with people and taking care of animals."
He returned home to Indiana with a new sense of confidence.
"I trust myself a lot now," he said. "If I really want to do something, I know I can."
For McKinney, Camp Grier opened his eyes to the impact one's different life experiences can have. He discovered that not everyone was as fortunate growing up as he was. He heard stories from kids who struggled at home, or who didn't have the support of family members. Many of them were searching for a place to belong and a person to confide in.
"We learned about a kid's inner city life, how things were not great at home," he said. "We learned he didn't have a role model. For a week, we were his role model. We got to help shape these kids' lives."
The journey that each of the five students took to get to the camp was different, and they each arrived with different expectations. But they each left changed in their own way. And they did it together.
"When we were down there, everybody on staff referred to us as the Bash Boys," McKinney said. "If it weren't for camp, I may have never met them. It was really cool to see the Brotherhood in action."