With great sadness, we mourn the unexpected death of Tyler Jordan Scheidt, who died as a result of a traffic accident on August 18, 2021.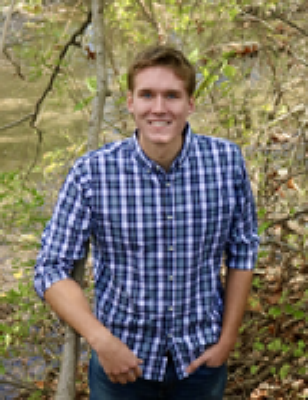 Tyler, who was born on June 9, 2000, was lovingly called the "Schmoo" by his parents, Damon and Donna (Bossung) Scheidt of Highland, IN. His big eyes, goofy grin, and gentle spirit made him a doppelganger for the 1950's cartoon character. In his younger brother, Camden, Tyler found a best friend, a teammate, a roommate, and a fellow lover of Star Wars, Nerf weapons, big waves at the beach, video games, blaring music, mom's chicken and noodles, their new car (aka Gandalf) and all things Marvel.
In addition to his parents and brother, Tyler was loved and will be missed dearly by his grandparents and superfans, Gene and Judy Scheidt, his grandfather and euchre partner, Ed Bossung, his loving and supportive aunt and uncles, his fun and hilarious cousins, and his many, many wonderful friends. He was preceded in death by his grandmother, Kay Bossung, from whom he got those big, beautiful, baby blue eyes.
Visitation will be Wednesday, August 25, 2021, from 4:00 p.m. - 9:00 p.m., at the Highland High School, Lon P. Monbeck Auditorium, 9135 Erie St, Highland, IN 46322. Funeral Service will be held on Thursday, August 26, 2021, 10:30 a.m., DIRECTLY at Our Lady of Grace Church, 3025 Highway Ave. Highland, IN 46322. Burial will follow at Chapel Lawn Memorial Gardens.
Tyler was a member of Saint James the Less Catholic Church, where he served as an altar boy when he was younger. Much to the chagrin of a young Tyler Scheidt, carrying the cross up the altar like a lightsaber was not acceptable behavior. Tyler attended Merkley Elementary, Highland Middle School, and he was a 2019 graduate of Highland High School. He always enjoyed school and was blessed with so many phenomenal teachers and coaches during his years as a Mustang, Spartan, and Trojan. While in high school, Ty played basketball and tennis and was a high jumper on the track team. He was also a member of the National Honor Society and the German National Honor Society.
Tyler attended Wabash College, where he was set to begin his junior year as a history major and German minor. He was also a member of the Delta Tau Delta fraternity and loved his brothers in the house. This past spring, Tyler put his German-speaking skills on display at a Comedy Night on campus where he took home the prize for Best Joke. His trophy was a pair of crazy socks, which he wore proudly and often.
With his larger-than-life personality... and stature... Tyler filled every room he entered with joy. He is best remembered for his smile, his funny, weird and random sayings, his belly laugh, his love for pepperoni and cheese, his kind soul, and his willingness to be a friend to everyone. He was a lover of movies and would have made a horrible movie critic because he never saw a movie he didn't like. He enjoyed family game nights. Whether it was playing UNO, euchre, Spikeball, Kan Jam, Trivial Pursuit, or Sorry, he was always up for a good game and somehow found a way to win most of them.
In his final selfless act of kindness, as an organ donor, Tyler donated his eyes (the cornea) to The Gift of Hope Organ and Tissue Donor Network. We find comfort in knowing that there is someone out there who now gets to see the world as Tyler saw it – a world full of joy and fun and laughter, a world where nothing ever moves too fast (especially him in the morning), a world where a donut shirt is the best thing to wear in your closet, and a world where your family, friends and loved ones are your most cherished possessions. It's a pretty good view through those beautiful blue eyes.
Thanks for helping us see it all more clearly now, Schmoo.
In lieu of flowers, please consider donating to St. Jude's Children's Hospital.