Maybe it was his open door, the sound of classical music coming from the office, or echoes of another meaningful conversation with a student who passed by. These are a few of the things that come to mind when Dr. Laura Wysocki thinks about Dr. David Phillips H'83, emeritus Professor of Chemistry.
Phillips, who taught continuously at the College for 36 years, died in March. A celebration of his life will be held Saturday, July 31, at 10 a.m. in the Salter Concert Hall in the Fine Arts Center.
Dr. Wysocki wasn't all that different from those students a little more than a decade ago when she interviewed for a professorship at Wabash and Phillips gave her a tour of Hays Hall, the science building that he had largely designed and which he oversaw its construction in 2004.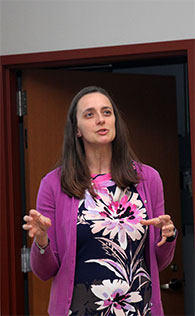 It's fitting that Wysocki, now an Associate Professor of Chemistry, is the first to hold the Edwin J. Peck/David A. Phillips Professorship in Chemistry, a chair endowed by Phillips following his passing.
Phillips wanted to honor Peck, a major benefactor in the College's first 50 years, in the naming of this professorship.
"It is an honor to receive the Peck/Phillips Professorship in Chemistry and I am truly grateful," Wysocki said. "Given David's love for the history of the College and his passion for helping our community to remember and recognize our past, juxtaposing these names is a very fitting way to honor David's memory. For our students, it is meaningful to see David honored in a way that supports the faculty they get to know in their classes."
In the years since that first tour, Phillips became a supportive mentor to Wysocki. She also learned that he was a challenging and supporting presence to students in the classroom and lab. He set high expectations for students, supported them along the way, and celebrated with them as they reached their goals.
Wysocki wants to do the same.
"I hope that I am able to continue David's student-centered approach and his deep appreciation for the people who make Wabash College the place we love," she said. "David would want us to continue to challenge ourselves and grow professionally and this professorship will enable me to do that in the coming years."
Wysocki employs a two-pronged approach to her scholarship. In the lab, I work with students to investigate fluorescent dye scaffolds to make sensors and enzyme substrates. Outside the lab, she's focused on developing and improving teaching tools related to science communication and how majors talk of their work to non-majors and the public.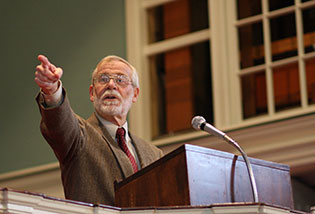 Wysocki, the chemistry department chair, said so much of the sciences is devoted to training students to become investigators. Mentoring is essential to the process. With this professorship, she hopes to continue positively serving in that capacity by exploring new ways to engage students in the lab and classroom.
Perhaps, too, she can shine a light on the kind of mentor Phillips was to so many.
"Some upperclassmen will remember David," she said. "His door was always open, and he loved nothing more than talking with passers-by. For our students, I look forward to more of those meaningful conversations."