After tabulation and confirmation of the ballots, alumni have re-elected Greg Estell '85 to the Wabash College Board of Trustees, serving another four-year term ending in 2025.
Alumni also re-elected incumbents Garrard McClendon '88, Neil Patel '94, and Cleophus Washington '85 to the Board of Directors of the National Association of Wabash Men (NAWM). All will serve on the NAWM Board for three years with terms ending in 2024.
Board of Trustees Alumni Representative:
Greg Estell '85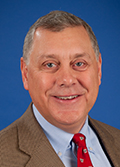 Estell is the founding principal of The Estell Group LLC, providing sales and marketing services for manufacturers of engineered components used in industrial automation, power transmission, automotive and other precision positioning applications. His career includes key roles in public policy and regulatory affairs, lean manufacturing strategies, business development, and executive management.
Estell was elected to the Board of Trustees in 2017. He has served as vice chair of the Academic Affairs committee and on the Advancement and Buildings and Grounds committees. He is concluding service as chair of the Wabash College Annual Fund — a role he has had since 2016.
Previously he has been a director on the NAWM board for 10 years, including president from 2013-15, and a director on the IAWM board. Estell has also been a Wabash fraternity advisor, a mentor on behalf of the Schroeder Center for Career Services, and a member of the ad hoc committee on long-term philanthropy and the Lambda Chi Alpha Alumni Association board of directors.
Estell lives in Fishers, Indiana, with his wife, Sarah, and their son, Henry.
Board of Directors of the NAWM:
Garrard McClendon '88
Dr. McClendon is a Chicago State University associate professor in advanced educational studies, and the publisher at publisher at Wayman Dean Press. He is the executive director of the Milton & Ruby McClendon Scholarship Fund, and is on the boards of the Mid-America Club and the Sheila A. Doyle Foundation.
His accolades include an Emmy award, One Region award, Associated Press award, and NAACP Champion award. He is the author of "Ax or Ask," "Donda's Rules: The Scholarly Works of Dr. Donda West (Mother of Kanye West)," and "President Thug."
He lives in Chicago with his wife, Quanica.
Neil Patel '94
Dr. Patel is currently an interventional pain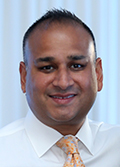 management physician at Brain and Spine Surgeon of New York and medical director of pain management and palliative care at Montefiore Nyack Hospital.
He grew up in Crawfordsville, Indiana, where the MXIBS currently stands. Patel was constantly immersed in the cultures and traditions of Wabash, and this experience led him to attend the college.
Patel completed his residency at Icahn School of Medicine at Mount Sinai followed by a pain management fellowship at Memorial Sloan Kettering Cancer Center where he stayed as faculty in the Department of Anesthesiology and Critical Care Medicine for three years.
He lives in New York City, New York, with his wife, Jenna, and son, Theo.
Cleophus Washington '85
Washington's public career included serving as a South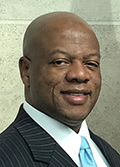 Bend city councilman and Indiana state senator. For the last 20 years he has worked in the private sector as a director of external, legislative, and regulatory affairs for AT&T.
Despite relocating to Alabama in 2008, Mr. Washington maintains a weekend private law practice in South Bend, Indiana, devoted exclusively to pro bono work for non-profit organizations whose primary purpose is to promote diversity and inclusion, financial literacy, and economic empowerment.
Washington has been actively involved in assisting the Wabash Enrollment Office in recruiting for more than three decades. He has returned to campus numerous times to speak with potential students and attends out of state college fairs. He has also hosted several Wabash summer interns who are thinking about law school. Outside of the NAWM, he hosted students, faculty, and staff who participated in a Civil Rights tours through Montgomery, Selma, and other parts of the southeast.
He is married to Dr. Marla Washington. They currently reside in Montgomery, Alabama, and have two sons, Cleo and Carson.