After a year of upheaval, Wabash College's most recent Orr Fellowship winner appreciates the certainty that comes with a two-year appointment.
"Due to all the uncertainties that came with the pandemic, a high-quality, two-year program close to home seemed to be a very great option," said Justin Kopp '21. "I have always thought that I would like to end up in Indiana eventually."
Kopp, a religion and Spanish double major with a minor in economics, is the 18th Wabash student to earn an Orr Fellowship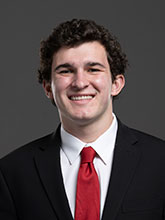 in the program's history and the second this year.
As an Orr Fellow, Kopp will receive executive mentorship and participate in a curriculum designed to develop understanding and skills vital to entrepreneurship and business leadership. Further, Orr Fellows will grow professionally through an active and supportive network with opportunities for cultural and civic engagement.
His mentorship begins with Lev, a Salesforce consultancy marketing company, where Kopp will participate in an eight-week accelerated development program before being placed in a permanent role on the Lev team.
"Justin is an outstanding example of what Wabash does best. We take smart high school guys, and in four years help them develop relevant skills and graduate ready to be leaders," said Roland Morin '91, Associate Dean for Professional Development and Center for Innovation, Business & Entrepreneurship. "Over the past four years, Justin has gained experience in project management, problem solving, analysis, and communication. These are fundamental to what the CIBE does for our students."
While at Wabash, Kopp has been a four-year member of the soccer and golf teams, serves as a Senior Consultant for the CIBE, and is a member of the Student Senate and Sphinx Club. He is an active member of Lambda Chi Alpha fraternity and has served as secretary for the Interfraternity Council. Additionally, he works as an interpreter at Kid's Count Therapy in Crawfordsville, where he helps translate documents and conversations with children and their parents who do not speak English as their primary language.
He has also interned in Indianapolis in each of the last two summers, including with the Indiana Sports Corp. in 2020, where he was involved with some of the early planning and marketing for what became the entire 2021 NCAA Tournament.
"As a Senior Consultant, Justin has led two different engagement projects for the Indiana Sports Corp," Morin said. "Not only is Justin leading this work, he is the person that brought the CIBE and Indiana Sports Corp together. "Justin is a great example of hard and soft skills coming together in one young professional. As an Orr Fellow, I suspect his career will be launched to the next level."
Kopp says he is proud to be a part of the Wabash legacy with the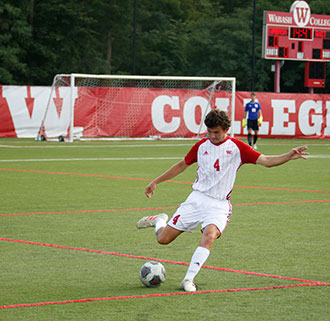 Orr Fellowship.
"I applied to the Orr Fellowship because going back to my freshmen year, it seemed like all the Wabash seniors who were applying to and receiving it were guys that I really looked up to and wanted to emulate," Kopp said, a native of Avon, Indiana. "Through conversations with them and others, everyone always spoke very highly of the Orr Fellowship and the prestige that it holds in Indianapolis. I'm looking forward to making a difference in my community and my workplace."
To be considered for an Orr Fellowship, a student must demonstrate leadership potential on and off campus, have a cumulative 3.5 GPA or higher (students with a 3.2 GPA may be considered if they have extensive leadership experience), and have a strong interest in entrepreneurial business or organizational leadership.
Wabash has had a total of 18 Orr Fellows since 2007 with 13 of those coming in the last four years. Kopp's classmate Danny Cuevas was named an Orr Fellow earlier this spring.