Wabash College continues to rank among the best institutions nationally when it comes to the value and support its students receive.
In its annual college guide: The Best Value Colleges, The Princeton Review rated Wabash as No. 1 in Best Alumni Network for private schools, No. 3 in Best Internship Opportunities, and No. 28 in Best Value Colleges for private schools. The latter ranking was the highest among private schools in the state of Indiana.
According to The Princeton Review, Best Value Colleges for 2021 comprise only seven percent of the nation's four-year colleges and feature each of the following attributes: stellar academics; affordability via low costs or generous financial aid; and strong career prospects for graduates.
"The common theme among alumni I meet is gratitude for the Wabash experience and a desire to give back to current students," said Wabash College President Scott E. Feller. "That manifests itself in so many ways, from our record-setting Day of Giving to our top-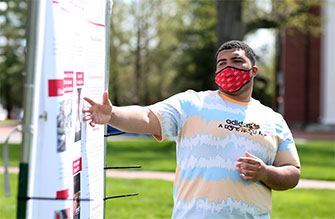 ranked alumni network. Wabash men appreciate the education they received and pay it forward by recruiting our students for internships and jobs, helping with career services, and doing whatever it takes make our College better for future generations."
The Princeton Review chose the 200 Best Value schools based on return on investment (ROI) ratings it tallied for 651 schools under consideration last year. The selection process considered more than 40 data points, broadly covering academics, affordability, and career preparation.
"It's great to see our efforts being recognized on a national level. We try to be thorough in assessing all students' needs and distributing resources equitably," said Alex DeLonis, Director of Financial Aid. "We strive to ensure finances are not a barrier for families when they are considering Wabash, and this would not be possible without the generosity of alumni and friends of the College. We take great pride in the support we provide to our students while they are on campus, and that support continues well beyond graduation. It takes the entire Wabash community to make this happen."
Wabash stood strong in rankings associated with faculty accessibility and engagement, both receiving scores of 99. The College also received a financial aid rating of 98.
According to payscale.com, a Wabash graduate with a bachelor's degree can expect an early career median salary of $62,300 with a mid-career salary of $139,100.
"The effort exhibited by our Professional Development Team and the infinite support of our alumni have once again been recognized by The Princeton Review." said Dean for Professional Development Steven Jones '87. "As I reflect on this year, I recall many conversations with alums who, despite the pandemic challenges they were facing, were always willing to assist with securing internships, virtual professional immersion experiences, mock interviews, and career advice. All of these ingredients are necessary to achieve outstanding outcomes, which Wabash has grown accustomed to for so many years, and I appreciate how our students benefit from this collaborative effort."
Last fall, The Princeton Review included Wabash in its Best 386 Colleges list, which ranked the 189-year-old liberal arts college for men in the top-20 nationally in 12 categories specific to the college experience. Seven of those were top-10 placings. The College is consistently rated highly for outstanding professors, classroom experience, financial aid, and career services.