The roles were flipped Friday afternoon as students in various spots across campus found themselves at the center of attention, condensing months' worth of extensive research into a fifteen-minute presentation.
It was all part of Wabash's 21st Celebration of Student Research, Scholarship, and Creative Work, an event dedicated to showcasing the impressive work of students in the form of oral and poster presentations, representing accomplishments across various disciplines.
Every year, afternoon classes are canceled and while student rhetoricians, mathematicians, and scientists explain their work, faculty, staff, coaches, and other campus members can be found listening and asking questions.
Micah Walker '21 read his original short story loosely titled "Wedding Crashers."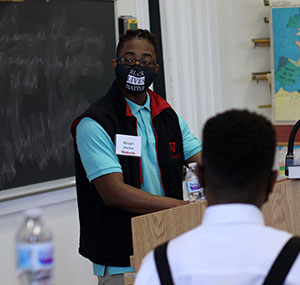 The piece focuses on a young man's hatred for weddings, which is used as a vehicle for him to self-reflect on his love life. As the audience listed to this story, they heard a plethora of flashbacks expressed that focused on the complications of romantic toxicity and maternal abandonment.
"I believe that every story leads readers into deep, lonely yet revitalizing, ruins of magic," said Walker, who was sponsored by English Professors Derek Mong and Eric Freeze. "They operate as confessionals for readers to lift up their masks to, associating their very own trauma, love, hate, dreams, and curiosity with the magical words that they come across on the pages."
After receiving a round of applause from the audience inside Center Hall and compliments weaved into questions, Walker proudly explained that this piece was the most developed short story he's written this academic year. He said he plans on expanding the piece and adding it to his Creative Writing portfolio.
Next door in Detchon Hall, William Osborn '21 gave a presentation titled, "2020 Election: An Exception to the Rule," that compared various opinion polls and other data from the 2008 election with 2020 and analyzed whether the state of the economy during each cycle swayed voter outcomes.
Outside on the mall, Delmas Crum '22 and Calum Bailey '22 presented "Arithmetical Structures on Complete Bipartite Graphs." Hayden Kammer '24 presented "Chamon: My RPG Medievalism about Race, Class, and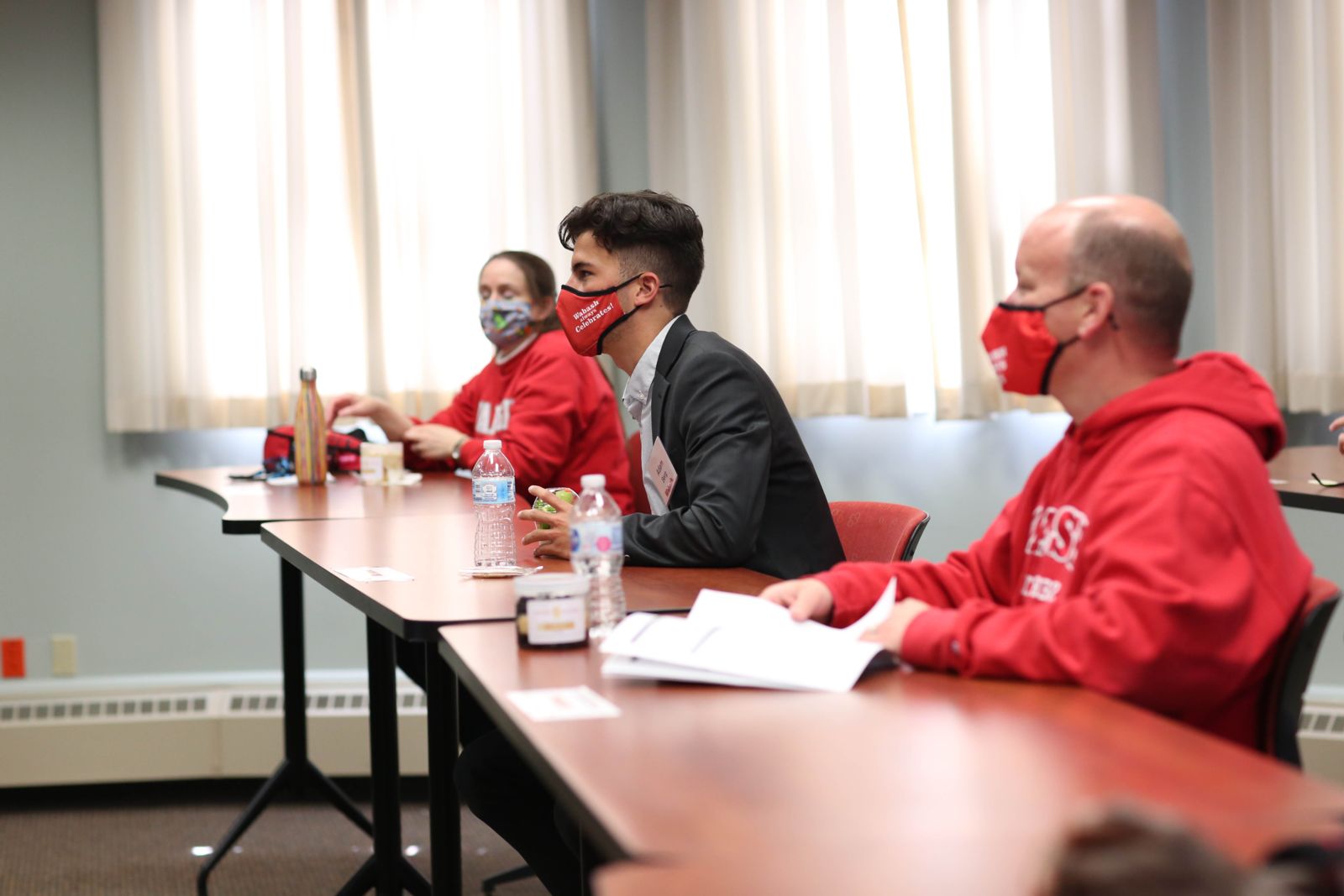 Gender." Isaiah McWilliams '22 presented "Romper la barrera/To Break the Barrier."
The Celebration presentations were diverse and focused on a wide variety of student work, including collaborative work with faculty and staff, independent study, or other projects that showcased efforts beyond normal coursework.
"The presentations place student achievement and passion for learning on display for the entire community," said Lon Porter, professor of chemistry and chair of Undergraduate Research and Celebration Committee. "These moments are powerful and highlight the culmination of weeks or months of student effort. They sometimes offer a glimpse into the future paths of Wabash gentlemen that ultimately pursue research and creative pursuits following graduation."
For the last two decades, the Celebration has recognized, in a proud and public way, the creative accomplishments of Wabash students, said Acting Dean of the College Todd McDorman.
"We celebrate not only the particular achievements of individual students, but also a deeply embedded ethos of the College," McDorman said. "The impressive breadth and quality of student creative work is evidence of the challenge and change that marks the Wabash experience.
"Given the circumstances of this year, the intellectual and creative work of this celebration may be more meaningful than any in the event's history and it is, in important respects, both a symbol of our resilience and a moment that marks a return to something resembling normal campus life."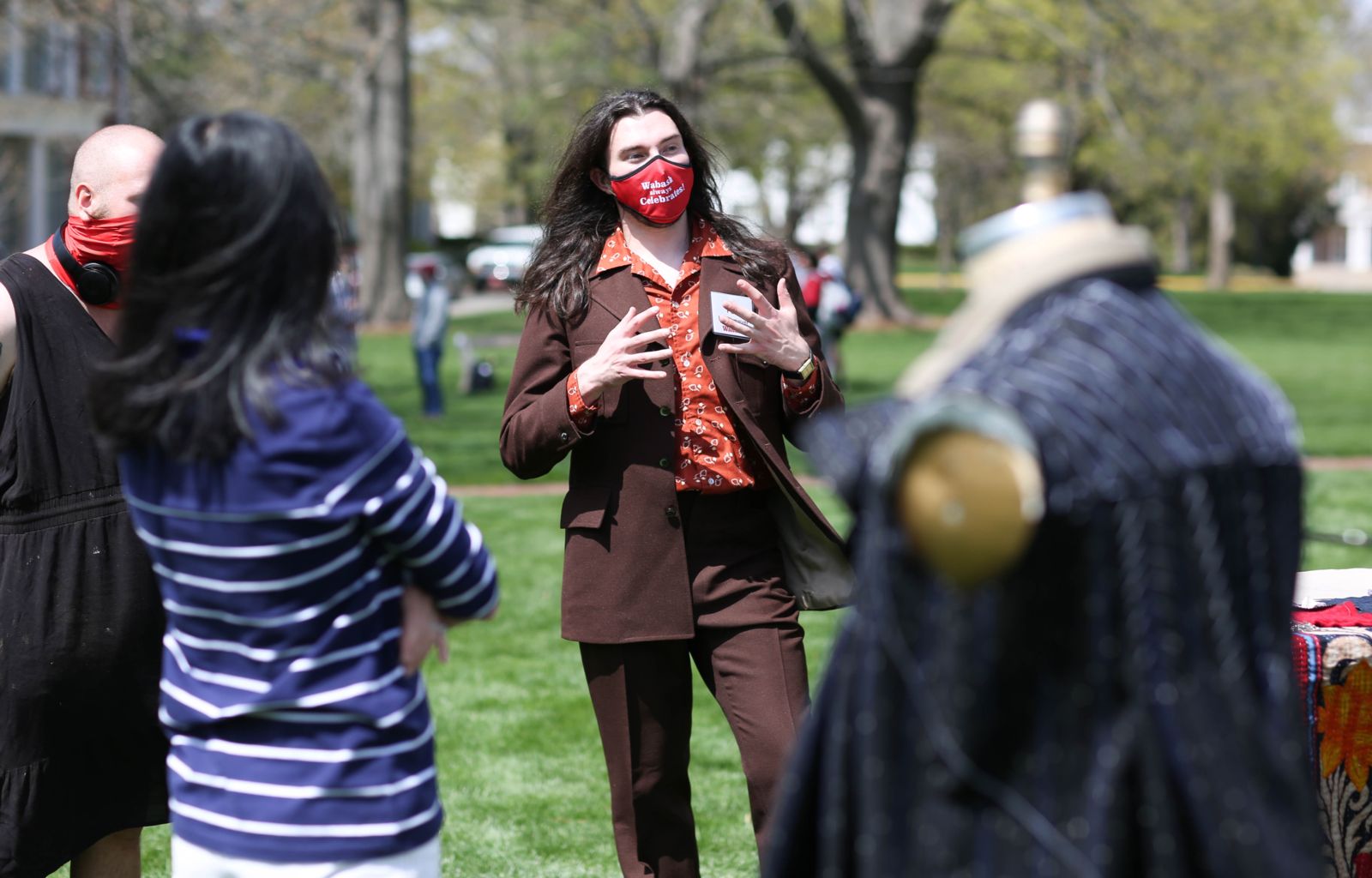 Prior to this year's event, the Celebration Committee announced the winners of two awards associated with the Wabash tradition: The Celebration Research, Scholarship, and Creativity Award, and the Robert Wedgeworth Research, Scholarship, and Creativity Awards.
The Celebration Research, Scholarship and Creativity Awards are $100 prizes awarded to the students who most effectively articulated their gains in professional development and personal growth as a result of their research, scholarship, or creative work. This year's winners are Patrick Carper '21, Paul Haesemeyer '21, Ahmaud Hill '21 and Justin Kopp '21.
The Robert Wedgeworth Research, Scholarship and Creativity Awards are $500 prizes that recognize a student's effective use of library resources in the preparation of Celebration work. This year's winners are Liam Buckley '22 and Andrew Freck '21.