Jake Vermeulen '21 didn't hit the two-minute mark into his opening argument before judges started firing questions.
"The act of voting is one of the more fundamental rights in our Constitution," said Vermeulen, who acted as a petitioner during Wednesday's Moot Court competition.
"Mr. Vermeulen, isn't it that when felons commit a crime and are convicted in a court of law, that they lose that right to vote," interjected panel judge Nicholas Maraman '10, senior attorney for the Legal Aid Society of Louisville and the 2007 Moot Court winner.
"Isn't that proper?"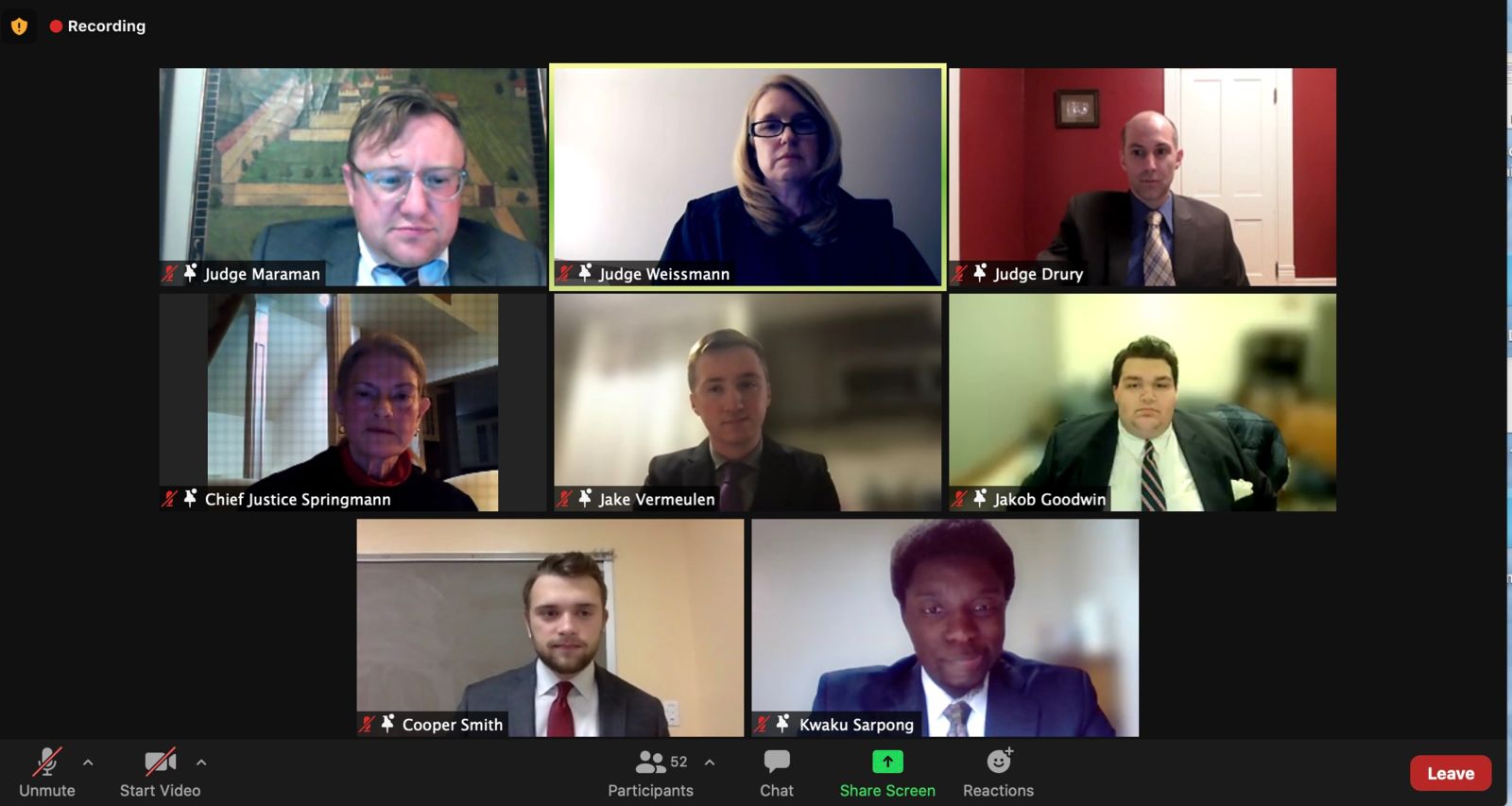 The question – like all others presented by the panel of judges, which included U.S. District Court Judge Theresa Lazar Springmann – was tough and unexpected.
"Your Honor, it is, and it is specifically enumerated in the Constitution that felons may be disenfranchised by states," Vermeulen answered. "However, when the state undergoes a process of choosing when to re-enfranchise felons, the lines it draws in doing so must be constitutionally valid and upheld by some rational relationship to the state interests that they purport to satisfy –"
Another question was thrown out, this time by Indiana Court of Appeals Judge Leanna K. Weissmann, before Vermeulen could complete his thought, modeling the reality of what attorneys face in actual court rooms.
Now in its 27th year, Moot Court is an annual competition where students stand before a panel of judges and argue a legal dispute adapted from an actual case pending before the United States Supreme Court. Due to COVID-19, the event was held virtually via Zoom.
This year's case involved the right to vote. Specifically, it considers a rule adopted by a state that allows certain felons to regain their voting rights after completing all terms of their criminal sentence including imposed financial terms.
Two key questions are considered in this year's case: whether the financial terms of the re-enfranchisement violate the Equal Protection Clause of the 14th Amendment to the United States Constitution by discriminating against the poor and whether the same financial terms violate the 24th Amendment to the Constitution, which prohibits a "poll tax."
Vermeulen and the other three finalist, Kwaku Sarpong '22, Jakob Goodwin '23 and Cooper Smith '23, couldn't rely on their notes or prepared speeches to sway judges during the competition. Each kept calm throughout their argument presentations and gave responses to questions that articulated mastery of the facts in the case and understanding of the law.
"Wabash's Moot Court epitomizes how we educate and train students," said Acting Dean of the College Todd McDorman, emphasizing that the annual competition is open to all students, regardless of major or class. While many alumni participants now work as lawyers, others have pursued pathways ranging from becoming medical doctors to high school teachers to Navy veterans.
"It teaches students critical thinking while exercising skills in oral advocacy and addressing an important public issue," McDorman said. "We don't pick cases that are obvious. They are cases that raise important questions about the law, about rights and how we see and treat people and some of the complex ways in which, as a society, we seek to address such questions."
When the judges reconvened after the appeals, Lazar Springmann first gave high praise to each of the four finalists before announcing the winner of the competition.
"We're very impressed with the presentation that was made with regard to these attorneys," Lazar Springmann told the students. "We were very impressed with their grasp of the issues, their ability to articulate the case law that's applicable, and their ability to think on their feet while maintaining their argument and taking shots from the bench.
"I have sat on other court appellate as well as trial moot courts and I have never seen a group from the college level who have been able to articulate so very well and with such confidence," she said. "You rival law students that I've been able to work with over my many years of practice."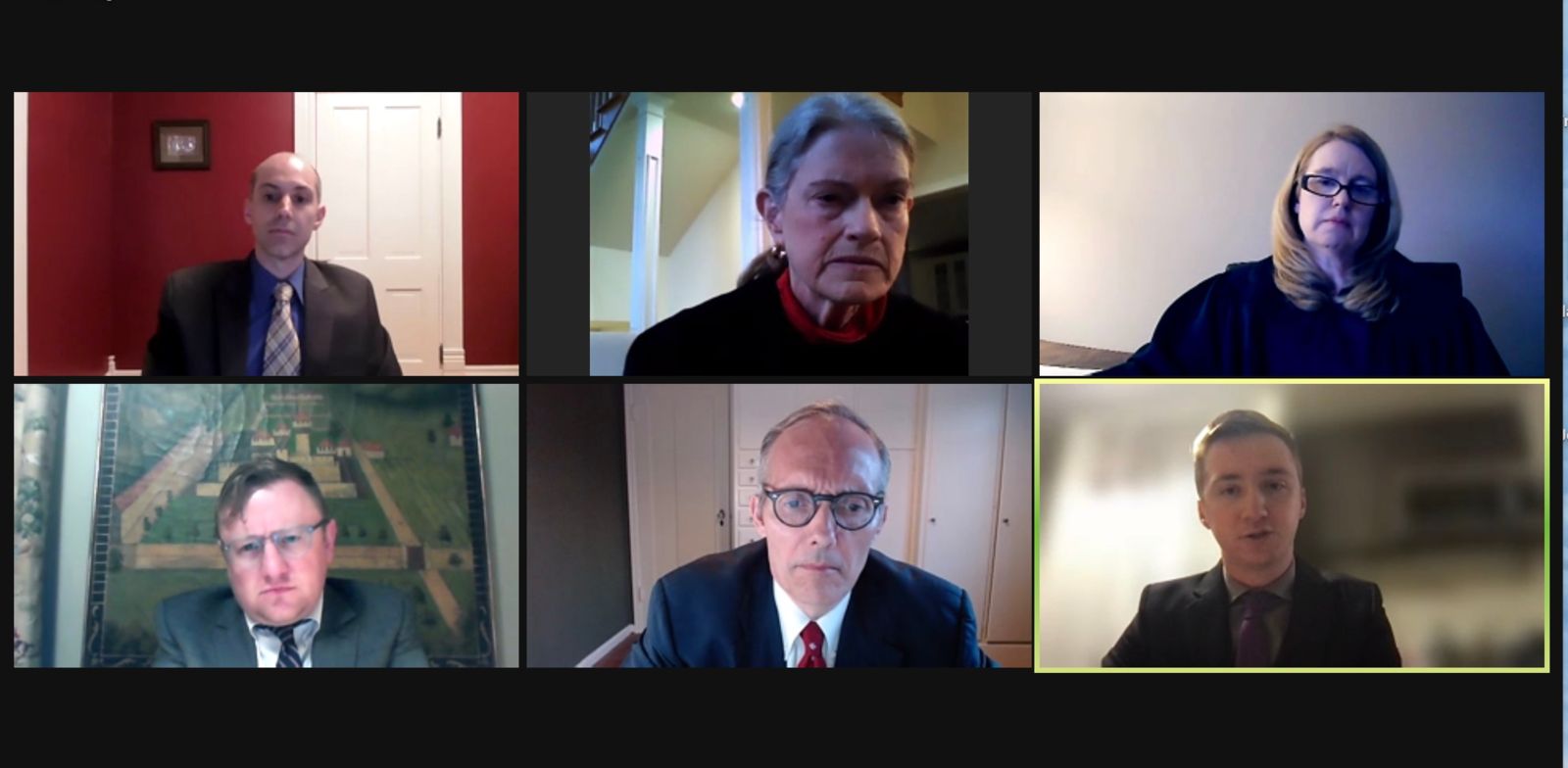 Vermeulen, a senior majoring in political science and minoring in religion and economics, was declared the winner. Currently, he serves as the managing editor of The Bachelor and as a member of the Pre-Law Society.
"It's a great feeling. This was my fourth time in the finals for Moot Court, so in some ways, it was a relief to win," Vermeulen said. "I'd been pretty close three times in the past, so finally getting over the hump was very satisfying, especially against such strong competition."
From Brownsburg, Indiana, Vermeulen plans to attend law school in the fall.
"Doing Moot Court as a freshman played a big part in solidifying my plans to go to law school," Vermeulen said. "I walked out of the semifinal round where Associate Professor of Political Science Scott Himsel and Tom Fisher '91, the Solicitor General for Indiana, had questioned me pretty intensely and I realized that I had a lot of fun doing that.
"I don't think you can undersell how great it is as a networking event," the senior said. "Most places try to connect alumni lawyers with students who are considering careers in the law. One of the great things about Moot Court is that it isn't just an opportunity to meet alumni, but you get to learn from them in their capacity as judges and get feedback about how you can improve skills that are important if you want to be a lawyer."
This year also marked the second time awarding the Floyd Artful Advocacy Prize, given to a successful advocate who is also kind, tactful, and principled. Sarpong, who became only the second freshman to win Moot Court in 2018, was the winner of the Prize.
The annual Moot Court competition is sponsored by the Indiana Association of Wabash Men and the Rhetoric Department.