David A. Phillips, 83, of Crawfordsville, Indiana, died on Mar. 4, 2021. He was born Dec. 17, 1937 in Los Angeles, California to William Henry and Iris Eva (Johnson) Phillips.
David earned a B. S. in Chemistry at the University of Redlands in California, then a Ph.D. in Chemistry at the University of Washington. While at Washington, he met and married Prudence (Kimball) Phillips, the love of his life for 45 years. Pru enjoyed a brilliant career as a chemistry teacher at Crawfordsville High School, sending many of her students on to earn advanced degrees in science and medicine. She died in 2009.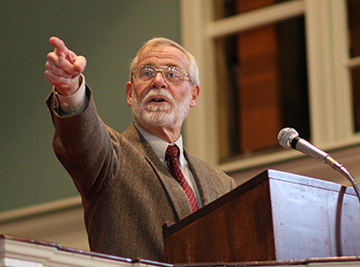 After one year as a post-doctoral fellow at Washington, David served for two years as an Instructor at Middle East Technical University in Ankara, Turkey. In 1968, he accepted an appointment as Wabash College's first inorganic chemist. He taught continuously until his retirement in 2004 and enjoyed teaching all-college courses such as freshman tutorials and Cultures and Traditions.
He was a professor who held himself and his students to high standards. One of his joys was seeing students advance from introductory chemistry through the final senior course, Chem 13, Advanced Inorganic Chemistry. David not only developed and taught this capstone course for 36 consecutive years, but he and Pru gave celebratory dinners for the seniors who finished it.
In the five years before he retired, he chaired the committee that oversaw the construction of Hays Hall and the renovation of Goodrich Hall at Wabash College.
Early in the 1968-69 season, David attended his first Wabash wrestling match. Shortly thereafter, Athletic Director Max Servies recruited him as a timer. For the next 35 years, David would be a fixture at most of the College's home wrestling meets, including the Little State tournaments and NCAA Division III Regionals hosted at Wabash. He also served as the College's Faculty Athletics Representative to the NCAA for six years and was inducted into the College's Athletics Hall of Fame.
Music was an essential part of David's life. He was an accomplished violinist and played with a quartet at Wabash and in the College's chamber orchestra for many years.
In retirement, David developed several projects aimed at restoring the College's institutional memory. Several of his articles appeared in Wabash Magazine, and he published two booklets – a collection of biographical sketches of the men whose portraits hang in the Wabash Chapel and (jointly with Professor John Zimmerman) an illustrated tour of the College's buildings and important landmarks. One of his best narratives of the founding of the College was delivered as a Chapel Talk, "In the Beginning There Was Hovey," on November 18, 2010. David is an honorary alumnus of Wabash (Class of 1983).
He is survived by his siblings Joy Elizabeth Butler, John E. Phillips, and Glenn A. Phillips, and their children, including Elizabeth Ritchie Lynch and Robert Alen Ritchie; and by the siblings of his deceased wife, Pru, Thomas R. Kimball (Suzanne), Martha Kimball (Christian Detrick), and Susanna K. Monette, and their children, including Elizabeth B. Kimball and Randall C. Monette.
Memorial contributions may be made to Wabash College, Advancement Office, 301 West Wabash Avenue, Crawfordsville, IN 47933, online at wabash.edu/give, or by phone at 877-743-4545.
A memorial service will be held on the campus of Wabash College at a time when people may gather in person to celebrate David's life.