Wabash College will celebrate the classes of 2020 and 2021 in a combined Commencement Ceremony on Saturday, May 15 in Little Giant Stadium. The ceremony will begin at 10:30 a.m.
"We are committed to honoring our young men and celebrating their achievements in an on-campus, in-person ceremony," said President Scott E. Feller. "Bringing these two classes together will provide a sense of closure that couldn't happen when the pandemic hit last year."
President Feller said the College is closely monitoring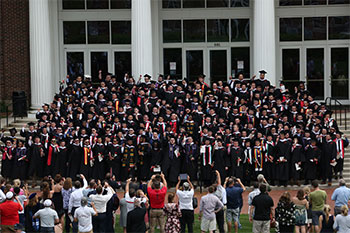 public health recommendations and continues to work with the Montgomery County Health Department to ensure a safe ceremony, and the new Little Giant Stadium will allow it to be held outside so that graduates can be safely distanced.
The President also hopes that the graduates will be allowed to invite family members or guests, but it's too early to know what that number might be.
"Everything related to COVID-19 changes so quickly that we are reluctant to make decisions about guests at this point," he said. "Conditions seem to be improving and we feel that in time we will have a better sense of what we might be able to do."
Earlier in its history, the College celebrated Commencement on Saturdays, but the tradition moved to Sunday during the World War II era. By shifting the ceremony back to Saturday morning at 10:30 a.m., Wabash will have flexibility to push the ceremony later in the day – or even to Sunday – in case of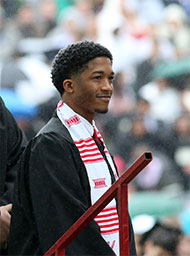 bad weather.
The ceremony will follow tradition and the only speakers will be members of the graduating classes.
Honorary Degrees will be awarded to Emeritus Professor of Political Science Melissa A. Butler H'85 and former President Gregory D. Hess.
Upon conclusion of the ceremony, each class will be led out of the stadium, through the Senior Arch, to the steps of the Allen Center, where graduates will sing "Old Wabash" to complete the traditional rite of passage.
Additional details about guests and ticketing will be provided at a later date.