The President's Distinguished Speaker Series at Wabash College is pleased to present award-winning journalist, author, and producer Liz Plank for a virtual visit at 7:30 p.m. on Tuesday, February 23. Register for a Zoom link here.
Plank is the author of the book, For the Love of Men: A New Vision for Mindful Masculinity, which was published in 2019 by St. Martin's Press.
Critics heralded For the Love of Men, including Publisher's Weekly, which wrote, "In this compassionate and skillful social analysis, journalist Plank's first book, she highlights the perils of an unfinished gender revolution that has failed to offer healthy alternatives to archaic expectations for men."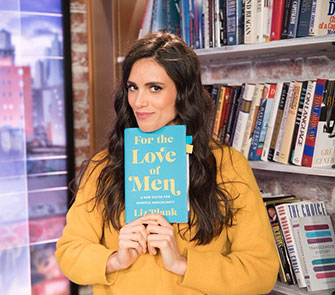 Plank is the Executive Producer and host of several critically acclaimed digital series at Vox Media and NBC News, including Divided States of Women at Vox. She was previously a Senior Correspondent at Mic and co-creator of Flip the Script, an award-winning weekly video series confronting social issues. In 2016, she presented a TEDx Talk, How to Be a Man: A Woman's Guide, which inspired her book, For the Love of Men.
Plank was ranked as one of the 50 most influential women by Marie Claire. In 2015, she was a correspondent for MSNBC's Krystal Clear and was named one of Forbes' 30 Under 30 in Media. In 2016, she produced and hosted 2016ish, an award-winning series about the presidential election.
Plank regularly appears on national and international television programs to provide a perspective on politics, gender issues, and reproductive rights, including The Today Show, The Daily Show, MSNBC, Fox News, ABC News, Fusion, Al-Jazeera America and BBC World.
Before working as a journalist, Plank was a research assistant and behavioral science consultant at the London School of Economics, from which she holds a master's degree in policy with an emphasis in global gender politics.