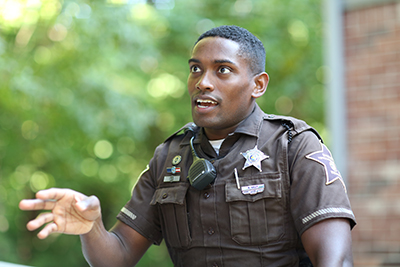 After his Commencement in 2015, Wabash College alumnus Nick Gray moved a few miles north to serve as an officer for the Tippecanoe County Sheriff Department.
Now, he has returned to campus to serve as the new Director of Safety and Security. His duties began Wednesday, Jan. 27.
"I'm looking forward to being put to work to better the College—to create something with an excellent group of people in a place I fell in love with almost 10 years ago," Gray said.
In addition to his time as a sheriff deputy, Gray has served as 2nd Lieutenant in Military Intelligence in the National Guard since 2019.
"I was fortunate to have several conversations with Nick during his senior year at Wabash on his calling to serve others through law enforcement," Wabash College President Scott Feller said. "He comes back to us with expertise in safety and security that will be invaluable to our campus, but more importantly, he has continued to grow the passion to help others that I saw in him as a student."
Gray was born in Jamaica and raised in Philadelphia. Once he came to Wabash, Gray majored in English, minored in Spanish, and was a member of the Phi Kappa Psi fraternity.
The summer before his junior year, he interned with the Philadelphia division of the United States Postal Inspection Service, a position that had him working closely with federal fraud and drug trafficking investigations.
Throughout his career of keeping communities safe, Gray has learned that the communities themselves play an important role in the efforts.
"Safety and security, whether on a college campus or Tippecanoe County, does not solely rest on the shoulders of security personnel or administration," he said. "It is a collective, community responsibility to make Wabash a safe learning environment. To that end, my door is always open to anyone on campus."