A short video played inside Ball Theater introducing a group of high school senior student-athletes to the history and accomplishments of Wabash College. While kicking off a tour of the College, its message was clear: success here happens on and off the field.
Not only does Wabash have the fifth-winningest football program in NCAA Division III history, it also has some of the highest academic and co-curricular rankings in the nation. According to the Princeton Review, Wabash ranks No. 1 in Best Internship Opportunities, No. 1 in Best Alumni Network, No. 4 Most Accessible Professors, No. 7 in Best Career Services, No. 17 in Best Financial Aid — and the list goes on.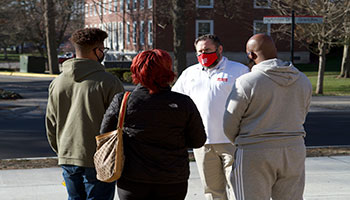 It seems that winning is the oldest Wabash tradition.
"Wabash College is famous for rigorous academics, and the guys who pick this place realize the success that comes out of it," Head Football Coach Don Morel told the recruits and their families during a recent campus visit. He then highlighted a list of successful Little Giant alumni including Ward Poulos '96, Co-Founder and Chief Design Officer of ZipRecruiter; Joe Impicciche '80, President and Chief Executive Officer of Ascension; and William Wheeler '83, Former President of MetLife and now President of Athene Holding Ltd.
"Clearly, there's something in the water here that makes this place work," Morel said.
After listening to Morel, the prospective students participating in the football visit were then split into small groups and assigned to a football coach who gave them a tour of campus. The tour showed off a mix of new — Little Giant Stadium and living units — and historic buildings on campus, while sharing stories of lasting Wabash traditions like painting the Senior Bench.
As they visited living units and classroom spaces, questions were asked by students and their families along the way, covering topics like class sizes, study abroad opportunities, and how to simultaneously manage school work and football obligations.
"With the amount of schoolwork and practice they need to get done, I assume students aren't working, too," one parent asked Olmy Olmstead, Assistant Football Coach and Recruiting Coordinator.
"Actually, many students on campus have jobs," Olmstead replied, surprising the family, as he gave examples of some on- and off-campus employment opportunities. He also added that most students will graduate with an internship or two completed.
"You will land an internship — guaranteed," Olmstead told the prospective student. "This past summer, 83% of returning students had an internship in their field of study."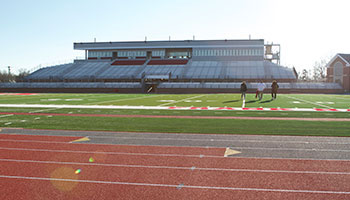 "One of our players who wants to go into construction management had a paid internship with Wilhelm Construction over the summer. He gained lots of experience and actually got to help build our football stadium," Olmstead said of Dane Smith '22, an offensive lineman on the football team.
"Wow," the parent replied, with wide eyes and a smile on his face. "Now, that's impressive!"
The tour ended with a walk-through of the new Little Giant Stadium, which was completed in November.
The first-rate facility, which was substantially funded by an anonymous group of donors, includes seating for more than 3,550 fans in the main grandstand, suites, and the W Club Lounge. It also features game operations and media booths, a relocated scoreboard, a new playing surface and all-weather track, and expanded restroom and upgraded concession areas.
Donors to the Little Giant Stadium project have chosen to pay tribute to former Wabash football coach Frank Navarro by naming the playing field in his honor. Navarro coached the Little Giants from 1974 to 1977, guiding Wabash to the 1977 Amos Alonzo Stagg Bowl, the DIII national championship game.
"The stadium is a big deal," said Director of Alumni Relations Steve Hoffman '85, who quarterbacked Wabash in the early 1980s, was an assistant football coach from 1991-97, and now also works as a commentator for Little Giants football broadcasts.
"It's a game changer and gives us that wow factor," Hoffman said. "Whether it's students on a recruiting tour or our alumni visiting, everyone has been amazed."
Even though a football game has yet to be played on the new field, Hoffman said he's already noticed people "starting to feel ownership and pride."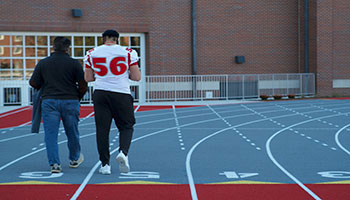 That pride was shown at the end of the visit, when prospective student-athletes put on Wabash jerseys and posed for pictures on the field, by the scoreboard, and under the "Wabash Always Fights" sign near the gateway entrance.
"Most of the guys get in their car at the end of the day and they say one of two things. What we like to hear is, 'This is it. I'm coming back,'" Olmstead said, noting that on average, about 50% of prospective seniors who participate in these football visits later enroll as Wabash student-athletes.
Are you interested? There's still time for interested students to schedule a visit to the College through Wabash Football. Upcoming visits will take place at 10 a.m. and 2 p.m. on Jan. 6-8 and Jan. 18-20. Click here for more information and to register.