Recognizing that the college search process is filled with challenges for families, Wabash College will no longer require a fee to apply for admission. The change is effective immediately.
The waiving of the application fee applies to students applying with the Common Application or through Wabash website. Prospective students in the Class of 2025 who have paid a Wabash application fee will receive a refund.
"Removing this barrier is one way that Wabash can support prospective students and their families as they navigate the college search," said Chip Timmons, Dean for Enrollment Management. "I do not know if the pandemic will lead students to apply to more or fewer colleges, but if Wabash is on their list, I do not want a fee to discourage them from applying."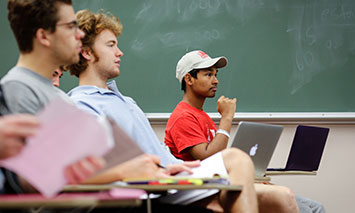 This is not the only hurdle the College has removed from the college search and application process. In July, Wabash was one of the first colleges to sign the "Care Counts in Crisis" statement, designed to identify the qualities and characteristics the College values most in recruiting.
The statement hopes to relieve stress on prospective students and their families, and to promote equality in college admissions by providing guidance on self-care, academic work, service to others, family considerations, and extracurricular and summer activities.
Additionally, Wabash College will practice test-optional admission for the 2020-21 enrollment cycle. Students are not required to submit standardized test scores as part of their application for admission, and those who choose not to submit standardized test scores will still be considered for merit-based scholarships.
Previously, a $50 fee was required with each application.
For more information about applying to Wabash College, check out our Prospective Student Resource Page along with opportunities to visit campus–virtually or in-person.