It's 11:15 a.m., and the voice of Associate Professor of Religion David Blix echoes out of the Chapel and onto the Mall.
But this isn't a Chapel Talk. In fact, it's not even Thursday.
This is a Friday class meeting of Religion 103: Islam & the Religions of India.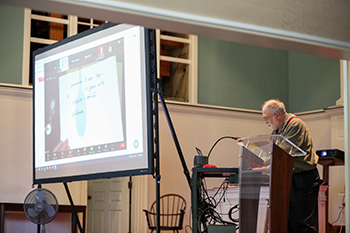 Blix is one of many Wabash professors who are currently teaching in non-traditional classrooms. On any given day this semester, students can be found learning in Knowling Fieldhouse, Ball Theater, behind the Caleb Mills house, and even at Goodrich Ballpark.
Religion 103 is one of the College's largest lecture courses and is typically taught in Center Hall 216. However, Pioneer Chapel is the only space on campus that can accommodate such a large number of students with proper social distancing.
"I'll admit, I was nervous about it," Blix said. "Even though I'd be on the same stage, I knew this would be nothing like giving a Chapel Talk. But my colleagues in IT and campus services have just done brilliantly."
Before the semester began, the Chapel stage was setup with a large projection screen, a laptop, a document camera, and a lapel mic. A more casual podium was added after the first couple of classes. When the weather was extremely warm, windows were opened and fans were placed on stage.
"The thing I really had to learn to account for was the immensity of the space. In Center 216, I could quickly glance around the room. In the Chapel, I had to learn to consciously look up to balcony on my right, look to the guys on the floor to my left, and so on."
When Blix's eyes make their way across the Chapel throughout each class, it's more than students' eyes he catches in return.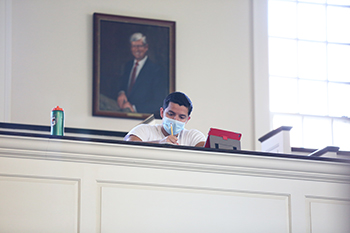 "You can't lecture in there without being very much aware of the portraits of the presidents on the wall," Blix said. "That building has such a sense of history."
"Seeing those blue ceilings, seeing all of the presidents looking down, there is something really cool about teaching in the that space," agreed Associate Professor of Psychology Eric Olofson, who teaches his "Fatherhood" class in the Chapel.
One challenge that comes with such a large classroom—especially one that has a balcony—is the ability to hear every student well.
"There was one day when the only thing I could hear a student saying was, 'Hot dog and lemon juice,'" Blix laughed. "I obviously knew that wasn't what he was saying, so I kept asking him to repeat himself. Eventually, one of the other students near him stepped up and yelled his answer to me!"
Another challenge many professors are facing is developing the personal connections with students for which they are nationally known. Even though professors have adapted by offering outside and virtual office hours and scheduling time to meet with students, Olofson said it just doesn't feel the same.
"To suggest that you can maintain the same type of connection in this context, it means that there's nothing special about the normal Wabash experience—a small number of people in a small space together with a professor."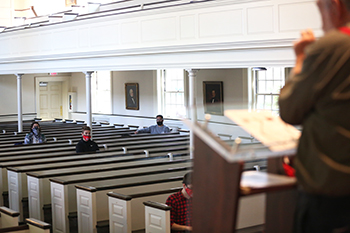 "I miss it," Blix agreed. "I'm not meeting with any students in my office. If students come up to me after class—which doesn't happen as often as it used to—I'll sit on one of the chairs on stage while they're on the main floor. It just doesn't feel as personal or relaxed."
"These days, there are only so many things you can give yourself a hard time about, though," Olofson said. "You have to give yourself grace."
All things considered, Blix believes this semester has gone as well as it possibly could have. Plus, his students will now be able to say they took a class with Dr. Blix in Pioneer Chapel.
"We have come so far!" Blix said. "If we can just maintain what we're doing, I think we will stand out among American colleges and universities."