Wabash College once again finds itself in the Top Tier of National Liberal Arts Colleges as ranked by U.S. News & World Report in its annual Best Colleges rankings, which were released Monday. Data was collected on more than 1,900 colleges and universities in the report.
"The college guide produced by U.S. News & World Report continues to be an excellent source of information for college-bound students and their families," said Wabash President Scott Feller. "Wabash takes enormous pride in the quality of its faculty and the exceptional classroom experience, and this year's rankings reflect that commitment."
Wabash is ranked 54th among National Liberal Arts Colleges. The College improved 12 spots in the U.S. News rankings in that category over the previous two years.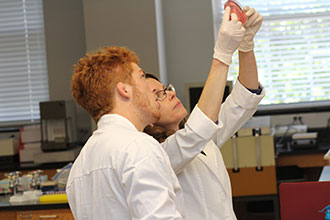 The College was ranked No. 21 nationally by U.S. News as a Best Value School, a measure of both academic quality and cost, which was the highest value ranking for any school in the state. Further, Wabash was ranked 23rd among all National Liberal Arts Colleges for Best Undergraduate Teaching.
U.S. News also honored Wabash as an A+ School for B Students, an institution "where spirit and hard work could make all the difference to admissions," according to the publication's criteria.
Additionally, the college was ranked 49th among liberal arts colleges in the listing of Top Performers on Social Mobility, making Wabash a college that is "more successful than others at advancing social mobility by enrolling and graduating large proportions of disadvantaged students awarded with Pell Grants."
"I'm most struck by the accessibility and value these rankings show to be hallmarks of the Wabash experience," said Todd McDorman, Acting Dean of the College and Professor of Rhetoric. "That we rank near the top of upper tier National Liberal Arts Colleges in social mobility speaks to the value of a Wabash education in helping to vault young men of modest means forward. Likewise, that we are the highest ranked 'best value' college or university in Indiana demonstrates that we are a more affordable option for these young men. Together these rankings tell part of our story: The excellent teaching and overall educational experience at Wabash provides excellent opportunities and outcomes for men of all backgrounds."
The U.S. News rankings are based on a weighted breakdown of the following criteria: outcomes (35%), faculty resources (20%), expert opinion (20%), financial resources (10%), student excellence (10%), and alumni giving (5%). Wabash's listed alumni giving rate of 40% places the school in the top-15 liberal arts schools nationally.
These rankings come on the heels of Wabash being named one of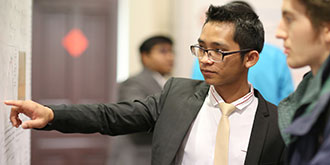 the best institutions for undergraduate education by The Princeton Review in its 2021 listing of the top 386 schools nationally, ranking No. 4 for the "Most Accessible Professors" and No. 8 for "Professors Get High Marks."
The College also received high marks for "Great Financial Aid (No. 17)," "Best Class Experience (No. 19)," and "Best-Run Colleges (No. 20)."
The College's Schroeder Center for Career Development garnered exceptional marks for its efforts, ranking No. 1 nationally both in "Best Alumni Network" and "Best School for Internships," and occupied the No. 7 spot in the "Best Career Services" listing.
Additionally, Wabash was one of 40 schools nationally included in the bestselling book, Colleges That Change Lives: 40 Schools That Will Change the Way You Think About Colleges.