If you haven't met Wabash nurse Chris Amidon, you've probably at least heard her name—especially over the past few months.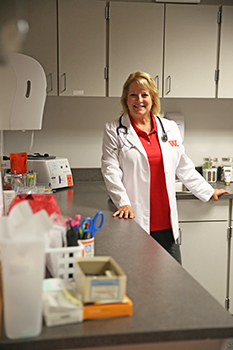 Chris came to Wabash from the Crawfordsville Community School Corporation, where she spent 14 years as a school nurse and health care coordinator, but she is no stranger to the College. In fact, the last time she sat in the visitors' section for the Monon Bell Game was 1983!
Chris was named Indiana's School Nurse of the Year in 2009, serves as the state's representative on the board of the National Association of School Nurses, and is a founding board member of the Montgomery County Free Clinic. She and her husband, Wabash Chief of Staff Jim Amidon '87, have one daughter, Sammie, who is a senior at Indiana University.
A member of the Healthy Campus Taskforce, Chris is vital in making sure the College a safe place for students. As if she's not busy enough this semester, Chris is also currently working toward her Nurse Practitioner's license!
We wanted to know more about the woman behind the mask, so we asked her to take a quick break and finish the following sentences.
My favorite food is… cheese. Any kind of cheese.
My favorite song right now is… anything from Lizzo's "Cuz I Love You" album. Her stuff is so uplifting, so positive, and I love that. I'm kind of obsessed.
My favorite movie is… Rent. As a family, we watch it at least three times a year—including every Christmas.
My favorite Wabash tradition is… the Monon Bell Game!
My first car was… a red Mercury Lynx. For those who don't know what that is, it was similar to the Ford Escort. It was the most basic car you could get.
The most important thing I do every day is… besides my work? I think that's pretty important. But if we're talking something more mundane? I'd say eat yogurt. I used to do yoga, but I just don't have time anymore. Now my yogurt is one my one bit of self-care every day.
The best day of my life was… my wedding day? Gosh, that is really hard. I have had so many amazing days in my life. But we got married in the Chapel, and that was beautiful. It rained the entire time, but somehow, we were still able to get some really neat pictures.
When I'm stressed, I… (laughs) What do I have to be stressed about? But in all honesty, I have so many wonderful people who check on me, and that means a lot. I have a lot of nurse friends who are a great source of support.
If I had to listen to one artist for the rest of my life, it would be… Lin-Manuel Miranda. He'll always be doing something different, and it will always be brilliant.
One of the things on my bucket list is… going to Parnassus Books in Nashville, Tennessee. It's a shop co-owned by author Ann Patchett, and we were supposed to go this year. So that's still on my bucket list. I also want to take my daughter to Europe. She's never been, and I haven't been in a really long time.
My favorite thing about being at Wabash is… definitely working with the students. They are so polite, so respectful, and always appreciative—even for the smallest things.