Three Wabash College students have earned Benjamin A. Gilman International Scholarships to study abroad.
Latham Davies '22, Solomon Davis '22, and Devin Vanyo '22 earned scholarships to study in Rabat, Morocco; Salzburg, Austria; and Budapest, Hungary, respectively, for their international experiences. Seventeen Wabash students now have earned a Gilman Scholarship since 2016.
"The Gilman Scholarship is a wonderful program," said Susan Albrecht, Wabash College Fellowship Advisor. "The scholarship supports students as they study or intern abroad and acknowledges strong academic and personal promise for these students to learn from their international experiences. Devin, Latham, and Solomon were thrilled to be selected for this honor, and we're all hopeful that the disruptions caused by the pandemic will soon be behind us so that their experiences can begin."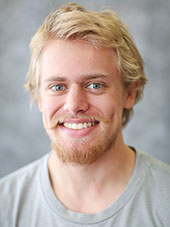 A religion major from Dallas, Texas, Davies is a member of Phi Gamma Delta fraternity and the Glee Club. Previously, he has traveled abroad to Taiwan with the Glee Club during the Summer 2019.
Due to the current circumstances relating to the COVID-19 pandemic, Davies plans on deferring his Gilman experience until Summer 2021.
"This opportunity is very exciting, and I am immensely grateful for the doors the Gilman will open," said Davies, a native of Dallas, Texas. "I want my impact to endure. Sharing my story has the potential to reach so many who may not understand the impact or the value of studying abroad."
A religion major with a minor in education, Davis is a member of Phi Gamma Delta fraternity and the Arabic club. Additionally, he volunteers at the local dog shelter, Night To Shine, and the Boys & Girls Club.
Davis' award was granted for the Spring 2021 term.
"This program allows me to piece together how global business success relies on understanding different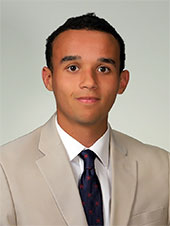 people through their culture," said Davis, a native of Washington, Indiana. "Understanding an area's religious practices can be foundational to understanding their overall culture. I hope this experience provides me with an edge in my course work and career."
A mathematics major with minors in religion and Greek, Vanyo, serves as a consultant in the Wabash Writing Center, is a member of the tennis team, and participates in the math club.
"High-level math can be thrilling, but I do not wish to experience it alone," said Vanyo, a native of Cuyahoga Falls, Ohio. "I want to share its excitement. One day, I wish to be a math professor, particularly with emphasis on teaching. This program in Budapest would do much to aid me in achieving that."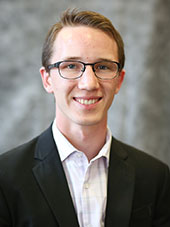 Administered by the Institute of International Education on behalf of the U.S. Department of State's Bureau of Educational and Cultural Affairs and funded by Congress, the purpose of the Gilman International Scholarship program is to encourage participation in study abroad programs for under-represented students, particularly those who are studying in under-represented areas of the world and/or under-represented languages.
The Gilman Scholarship seeks to support a cohort of American students studying abroad which reflects the true diversity of the nation. Scholarship recipients have the opportunity to gain a better understanding of other cultures, countries, languages, and economies — making them better prepared to assume leadership roles within government and the private sector.
Over the last seven years, 59 Wabash men have earned international fellowships. The list includes a Rhodes Scholar, 24 Fulbright recipients, 17 Gilman Scholarship recipients, nine USTA fellowship recipients, four North American Language and Culture Assistantships in Spain, three TAPIF English Teaching Assistantships (France), and one JET recipient.