Wabash College is listed in the 2021 edition of the Fiske Guide to Colleges as one of the best and most interesting colleges and universities in the United States, Canada, Great Britain, and Ireland.
Now in its 37th year, the Fiske Guide uses the unique approach of including quotes from current students and supplemental information to deliver an "insider's view" to college-bound students and their parents.
Of the Wabash experience, the Fiske Guide writes, "The Wabash educational program has certainly proved itself over the years…Economics, rhetoric, history, and political science draw the most majors, and high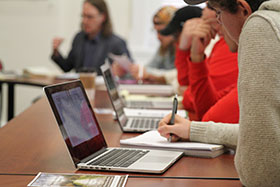 accolades go to the chemistry, biology, and English departments. Religion and theater are traditional strengths, and new majors include computer science and philosophy, politics, and economics (PPE). Many programs have been augmented with cross-cultural immersion learning courses with short-term travel components—at no extra cost to students."
The guide spotlighted the spirit of brotherhood and competition, traditions, the student housing expansion, as well as the Little Giants' athletic successes.
The Fiske Guide profiles more than 300 of the nation's best colleges and universities, offering academic, social, and quality-of-life ratings for each school. Edited by Edward B. Fiske, former education editor for the New York Times, the guide is based on academic ratings, price category, quality of student life on campus, and additional factors.