Who is Ra'Shawn Jones? That depends on who's being asked.
If it's his Lambda Chi brothers, his football and track teammates, or his closest friends, they'll always smile and ask, "You mean Bill?"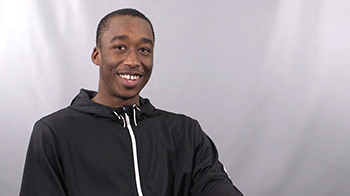 Somewhere along the line, "Bill" became a nickname for Jones' nickname, "Lil Bill." Yes, the cartoon created by Bill Cosby—Jones bears a striking resemblance to the main character.
"That has been going on since I was 14 at Belzer Middle School," Jones laughs. "It's one of those things that just sticks. It's funny because I've realized that some people don't actually know what my real name is."
"But Bill is far too ordinary a name for as extraordinary a guy as this," Professor of Religion Derek Nelson says.
Jones, a religion major, has been Nelson's advisee since signing up for Nelson's freshman tutorial: "The Meaning of Life, Part One."
"He was quiet at first," Nelson says. "Indeed, his Twitter handle is something like 'Silent Goof,' but he was really chewing on the questions. I loved the way his face would squinch up when one of his classmates would veer into crazy land, and I still remember the confidence and thoughtfulness he showed as a freshman in an oral final exam for that course."
The "goof" in "Silent Goof" isn't something that comes out all the time—he works too hard for that to happen.
There was a time in high school when Jones' family didn't know how or if they would get their next meal. Jones, his mother, and his sister were homeless for a time, living out of motels and sometimes their car.
Jones stepped up back then by getting a job at a Waffle House. During the pandemic, Jones got a job at the Walmart in Crawfordsville to help his family make ends meet while also finishing the spring semester of his senior year.
"I just don't want to worry about the small stuff other people take for granted all the time," Jones says. "Having deodorant, toothpaste, toilet paper—stuff you shouldn't have to worry about and other people have had the luxury of not worrying about because they've always had it at their disposal."
But when the "goof" does come out, he lights up a room.
"He's hilarious," Jones' Lambda Chi brother Isaiah Mears says. "He's seriously one of the funniest people I've ever met in my life. You're just attracted to his personality; he walks into a room and people automatically start smiling."
Jones is also a three-time All-American, a nine-time conference champion, and one of the fastest Division III hurdlers in the nation.
He's a father-figure for his two nieces, whom he hopes see him as a provider. Someone who's hard-working, courageous, and respectful.
He's a rapper who has performed for the entire Wabash student body and already has songs on Apple Music under his stage name… wait for it… "Lil Bill." His studies as a religion major have taught him how to use metaphors to make his personal experiences more relatable to others.
"There's a whole lot more than just surface level with Ra'Shawn," Mears says.
But his surface level, the one thing that everyone sees, is exactly what Jones constantly thinks about.
"I'm sorry," he says, as he leans his head back and covers his face with his hands. "I'm going to get emotional."
Tears start rolling down both sides of his face faster than he can wipe them away.
"At the end of the day, I'm still a black man," Jones says, taking a deep breath.
"That's just how it is. When I leave here, unless I have that Wabash on my chest, people are just going to see me as a black man. They won't know I'm an All-American track athlete. They're going to apply whatever they think they know about me…whatever they want to see me as. I worry about that all the time.
"I'm trying to understand that this is something I need to deal with and, honestly, bring myself to be okay with, because I know it's going to happen."
Because of how he wants to be treated, Jones tries to not have his own preconceived notions or assume the worst in anyone as well.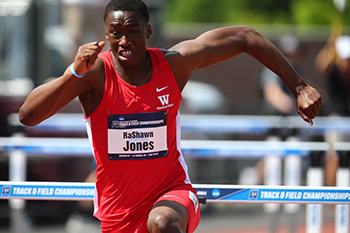 "I don't block any blessings," he says. "It doesn't matter what color you are, you can help me, and I can help you. As long as you're a genuine person, and you're not doing malice to people, you're not on the bad side of things."
Jones' identity is really important to him. It's not that people don't see the real him, he said. It's that many people don't see the full him, which is why he turned to songwriting.
A nickname, a college graduate, an artist, an athlete, a black man.
That's what Ra'Shawn Jones wants people to know—he's more than who you think he is.