In this time of virtual classrooms and social distancing, Wabash College once again will show the strength of its connections as it hosts its seventh-annual Day of Giving on Tuesday, May 12.
"Wabash Together" is a day designed to celebrate the College's great tradition of philanthropy and the "Wabash Always Fights" mantra by generating gifts that directly support students, programming, and the educational opportunities that make the Wabash experience unique.
The nearly 24-hour effort begins at 5:12 a.m. and runs past midnight. Combining the ideas of crowd funding -- specific goals in a specific time period -- with the buzz of social media, the #WabashTogether campaign hopes to strengthen ties to Wabash and inspire impressive levels of support, as has been the case in each of the previous years.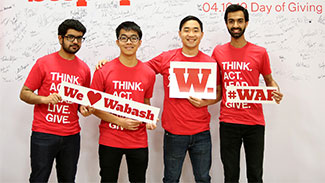 "Our Day of Giving has become a day many members of the extended Wabash family look forward to in order to join together in support of the College and amplify the great things happening here," said Aaron Selby, Director of Annual Giving and Advancement Services. "The generosity of the Wabash community is remarkable and has a direct impact on the lives of our students."
Over $1.1 million was raised last year from more than 5,200 gifts.
The #WabashTogether effort on 5.12 features on-line ambassadors engaging members of the Wabash community throughout the day. The College hopes to unlock $490,000 already pledged by generous donors via seven challenges throughout the day.
Anyone can participate following these four steps: 1.) make a gift; 2.) convince others to do the same; 3.) spread the word through your social networks with the hashtag #WabashTogether; and 4.) enjoy the excitement and success.
To make a gift, visit www.wabash.edu/512 or call (877) 743-4545.