A national champion runner, All-American football and basketball players, and Gagliardi Award finalist are among eight individuals who will be inducted in the Wabash College Athletics Hall of Fame during Homecoming weekend in September.
Every two years, the National Association of Wabash Men inducts outstanding athletes, coaches, and teams into its Hall of Fame, which was established in 1982.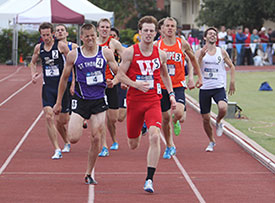 Headlining this year's inductees is two-time NCAA Division III Champion runner Jake Waterman '13, who won national titles in the indoor and outdoor 800-meter run. Waterman was also a two-time national runner-up and a six-time All-American.
Other inductees include Cliff Bell '76, Greg Birk '77, Mike Brown '76, Bill Cannon '79, Russell Harbaugh '06, Jim Pursel '73, and Chris Whitfield '88.
The 2005 Football team will also be enshrined in the Hall of Fame after winning the North Coast Athletic Conference Championship, posting a perfect 10-0 regular season record, and advancing to the second round of the Div. III playoffs.
Cliff Bell was a prolific scorer in basketball, averaging in double figures in each of his four seasons. He finished his career with 1,223 points and 763 rebounds.
Greg Birk was a talented distance runner, lettering four times in cross country and track and field and earning MVP and team captain honors in both sports. He also served as head coach and assistant coach of the cross country teams.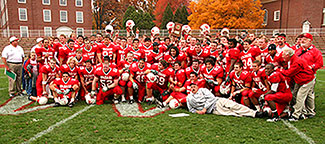 Mike Brown was a four-year baseball letterman, two-time captain, and three-time team MVP. He led the team in batting three straight years, hitting nearly .400 in 1974.
Bill Cannon was a fierce linebacker on some of Wabash's greatest teams of the era. A four-year letterman, he played on the 1977 Stagg Bowl team that finished 11-2. He was the 1978 team MVP, made 13 career interceptions, and was named to the Little All-America Team.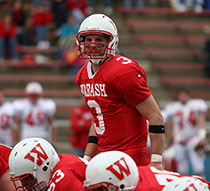 Russell Harbaugh quarterbacked the 2005 Little Giants to a perfect 10-0 season, NCAC title, and 11-1 record. He was a three-year starter who threw for 7,118 yards and 56 touchdowns, and was a finalist for the Gagliardi Award, which recognizes the Division III Player of the Year.
Jim Pursel was a rugged defensive lineman and four-year letterman for the Little Giant football team, earning MVP and All-ICC honors. In track and field, he was a record-setting shot-putter, who won the GLCA and Indiana Little State titles.
Chris Whitfield led the Wabash basketball team in scoring, rebounding, and blocked shots three straight years from 1986-88. He scored 1,473 points and pulled down 681 rebounds, and was an Honorable Mention All-American in 1988.
The Hall of Fame induction ceremony is scheduled for Friday, September 18, 2020.