His Phi Kappa Psi pledge brothers describe Dave Boulware '96 as intelligent, humble, and well balanced.
Glen Disque, one of those classmates, said of Boulware, "He was naturally gifted for science."
Boulware, a Professor of Medicine in the Division of Infectious Diseases and International Medicine at the University of Minnesota, specializes in infectious disease. Currently, he's doing research on drugs to aid in the treatment of COVID-19. Last week, he received Food & Drug Administration approval for further clinical trials.
His team's work was singled out by President Trump at a recent press conference, and he was interviewed March 20 on ABC's Good Morning America.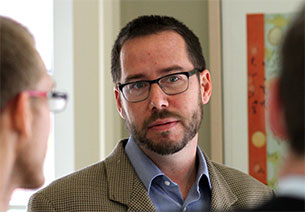 Were those Phi Psis surprised by the name check?
"It doesn't surprise me at all," said Jon Ness '96, now the President and CEO of La Nacional, a financial remittance company. "Dave has been very successful in his field for quite a long time. It doesn't come as a surprise that he's at the tip of the spear in trying to develop a cure for this crisis."
Even as work continues on COVID-19, Boulware remains connected to Wabash. He is a member of the Global Health Initiative (GHI) advisory committee and took time to participate in a virtual meeting last week. As he was logging off to get back to work, GHI program coordinator Jill Rogers quipped, "It was great to have Dave join us even though he's busy trying to save the world."
His Phi Psi pledge brothers saw something special in Boulware early on. Disque remembers taking Organic Chemistry with him, and while Disque says he worked hard and struggled to get by, Boulware made it look like a breeze.
"He was a monster in the lab, as Dr. (Richard) Dallinger said, 'He was a god,'" Disque remembered.
"I don't remember him struggling even a little with anything academically…ever," added Adam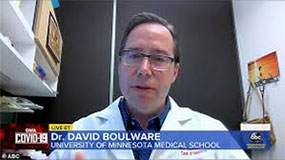 Stasko '96.
Most of his pledge brothers agree, he's an exceptional person, who 25 years ago was able to balance academics, fraternity life, and athletics, too, as a member of the cross country team.
"Dave wasn't just buried in books the entire time," said Ness. "He was always doing his part, always involved, and happy to put in the effort. There was a lot going on and Dave was always in the middle of it."
That sounds a lot like what's happening today as Boulware and his team work towards a potential COVID-19 cure.
"He is an amazing human being," said Disque, "and a testament to being a great Wabash Man."