It wasn't too long into her first virtual classroom session – a live chat – that Associate Professor of Education Studies Michele Pittard found herself a little anxious.
"I could see five people were typing," she started. "I'm saying to myself, 'c'mon, c'mon, c'mon.' I got a little bit impatient waiting for their responses to come through."
The freshmen in her Enduing Questions class were tasked with discussing Martin Luther King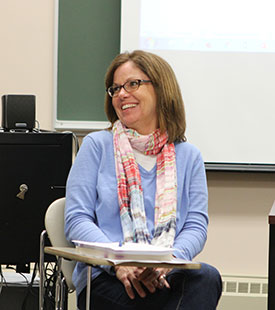 Jr.'s "Letter from a Birmingham Jail," a text that lends itself to deep discussions. Pittard opted for the live chat through Canvas, the College's course management platform, partially because it feels like direct messaging – something students are used to – and because of concerns about potential WiFi access.
Pittard experimented with videoconferencing in the last 15 minutes of class. It led to an interesting discovery.
"It seemed pretty seamless," she said. "They could see me and I could see them, but they couldn't see each other. I need to figure out that piece because the students want to see each other."
By nature, most of Pittard's classes are discussion-based, especially Enduring Questions. She was pleased that the level of dialog achieved virtually rose to the level of what she's come to expect in her face-to-face classes.
"We have built up the expectations that EQ is a discussion-based class," she said. "I wonder if the discussion would feel the same if I were doing a purely on-line course, if I hadn't already built a rapport with students and gotten to know them. Moving on-line with people we know, even if we can't see each other, they interacted like they knew each other."
Aside from the familiarity aspect, Pittard reminded her students in each of the virtual gatherings to be patient with each other and with the technology.
"Aren't we lucky to be able to connect virtually?" she asked.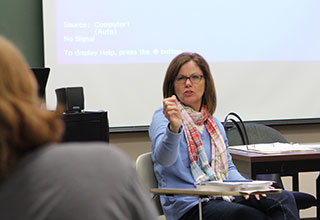 Pittard acknowledged the technology made for a more egalitarian experience, as the students' comfort with technology made for a more even exchange of ideas.
"The technology piece helps neutralize that power differential in some ways," she said. "The lack of proximity we have with each other also contributes to that. They are wherever they are. We're accessing this from different, but similar, perspectives."
All things considered, she finds the experience invigorating.
"I'm really enjoying learning how to use this technology, thinking about the classes differently, and rethinking some of my assignments, which is fun for me, too.
"There is something about people pulling together in a time of crisis that is refreshing and encouraging," she continued. "We are all in this together and I love that piece of it."