No laugh is more reassuring on the Wabash campus these days than Aaron Elam's. It comes up often in conversation, and the sound of his laugh puts everyone at ease.
Elam is an Educational Technologist, and he is the man tasked with assisting professors as faculty transition to virtual learning classrooms.
Of course, the first question was met first with a laugh. How have these first few days gone?
"The first day went kind of as would be expected with a major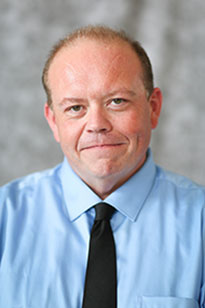 change like this," he said. "We had some wins and some losses. The faculty is taking this in stride, so everybody is level headed, calm, and cool."
He's the first to admit the virtual move is more complex than simply adding technology to the equation. It's a shift in the Wabash culture and how teaching is done here. The Coronavirus pandemic made such a shift a necessity.
"To go from face-to-face teaching every day, to stop on a dime, turn 180 degrees, and teach online, is a big ask for any faculty member, Elam explained. "Many of our faculty don't have a lot of experience doing it."
Elam knows faculty are now rethinking everything. They have worked with him to figure out how certain elements will function in a virtual classroom. What's been reassuring to Elam is how much the professors have collaborated within departments, throughout academic divisions, and across campus. 'Why don't you try this?' is a common refrain.
"The faculty have been amazing at throwing ideas against each other and getting suggestions from other faculty members," he said. "They've been really fantastic about working together to get through this."
Canvas is the Wabash learning management system, and the Canvas Classroom is the prevalent teaching tool, though some are using Zoom or Twitch, among others. Adjustments are on-going as both students and professors adjust to the software, bandwidth, and access. Technology isn't bulletproof. The adjustments will continue.
The transition was a quick one. Elam started leading faculty training sessions in earnest on March 10. With the campus on Spring Break, that necessitated joining when they could wherever they were. Some professors were on research trips, leading immersion learning courses, or on personal vacations. A good number participated both in-person and on-line to experience the technology from both sides.
It wasn't easy, but Elam helped the faculty get to a more comfortable place.
"In the first couple of sessions, you could tell there was a lot of tension in the room," he said. "As people interacted with the technology and went through the sessions, by the time we got to Friday, you could see a lot of relief on their faces – just the little things."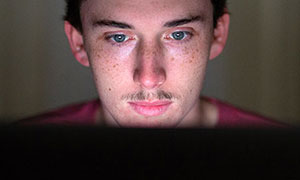 Probably more than anyone, Elam has seen a lot of progress over the last 10 days. That progress is reflected in a certain Wabash ethos.
"The adaptivity and the willingness of the faculty to take this head on and not let it intimidate them is the most impressive thing I've seen over the last week," he said. "The sheer tenacity of our faculty to do what they can in using what they have to maintain the level of education that our students expect has been really impressive. It really harkens to the Wabash Always Fights mentality."