The Wabash College Theater Department is performing Naomi Iizuka's play Anon(ymous), a modern re-telling of Homer's Odyssey, in Ball Theater of the Fine Arts Center. Performances at 8:00 p.m. February 26-29, 2020. Tickets are free, but should be reserved through the Fine Arts Center Box Office.
Anon(ymous) tells the story of an immigrant "nobody," who is separated from his mother and travels to the United States. He meets a kind family who prepares meals that remind him of home, and also experiences cruelty as he continues on his quest to rejoin his family.
Associate Professor of Theater Heidi Winters Vogel is directing the production, which features a minimalist, yet versatile set, thrilling sound effects, and dazzling lights. "I have loved this scrip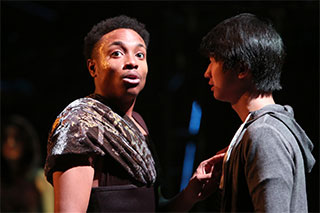 t for a long time," the director said. "It deals with an important issue like the refugee crisis in a beautiful, lyrical way that isn't demagogic. Also, Naomi Iizuka, who was a classics major at Yale, updates the Odyssey in an intriguing commentary on masculinity, journeys, and violence."
Benvolio Wang takes center stage as Anon, the nobody who travels an ever-changing landscape in search of his mother and his home. He is helped along the way by Naja, a god played by Dei'Marlon Scisney, who appears and disappears, but is always alongside Anon throughout his journey.
Maria Cristina Monsolve plays Nemasani, Anon's desperate mother, who weaves his burial shroud each day only for it to unravel each night as she is pressured to marry her evil boss.
"The Wabash cast for our production of Anon(ymous) is amazing," Vogel said. "We have a mix of students, faculty, and locals; seasoned performers and newcomers; native-born and actors from Ecuador, Spain, China, and Germany! There are puppets, masks, moving scenery. And scenes in the ocean and on the top of a train car, among other interesting locales."
Almost every actor plays multiple roles in the play, and all help change the scenery in rhythmic movement.
In addition to Wang, Scisney, and Monsolve, the cast includes Daniel Brewer, Kevin Ballard-Munn, Sara Carrelero Fernandez, Isabella d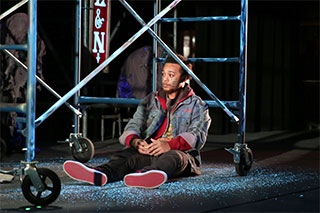 e Assis-Wilson, Sammy Lebron, Betsy Swift, Brea Carlson, and Lamore Boudoin, Cory Geraths, Teddy Lupinski, Fin Bandholz, and Dario Banuelos.
"It has been such a fun and creative process, and I am honored to work with such eager collaborators," Vogel added.
The play is directed by Vogel with scene design by Noah Files; costume design by Andrea Bear; lighting design by David Vogel; and sound design by Chris Renk. Stage management by Ace Dzurovcik with assistance from Samuel North. Todd Handlogten is the technical director, while Logan Montgomery is the master electrician and Kevin Ballard-Munn is the properties master. Robert Borland is the dramaturg.