Wabash College remains among an elite group of institutions included on the list of U.S. colleges and universities that produced the most 2019-20 Fulbright U.S. Students.
Four students received Fulbright English Teaching Assistant awards for 2019-20: David Daugherty '19 to Spain, Neil Dittmann '19 to Germany, Ian Finley '19 to Spain, and Cal Hockemeyer '19 to Germany. A fifth student, Jordan Ogle '19, earned a Fulbright U.K. Partner award to the United Kingdom. The five awards places Wabash in a tie for 30th place among the top Fulbright-producing baccalaureate institutions nationally.
"The Top Producing Fulbright designation is a wonderful recognition for Wabash and our terrific students," said Susan Albrecht, Wabash College Fellowship Advisor. "We may be a small institution, but our guys tend to work extremely hard on their applications, and it is nice to see them succeeding in sizable numbers."
The Fulbright U.S. Student Program is the largest U.S. exchange program, offering opportunities for students and young professionals to undertake international graduate study, advanced research, university teaching, and primary and secondary school teaching worldwide. The program awards approximately 1,900 grants annually and operates in more than 140 countries worldwide.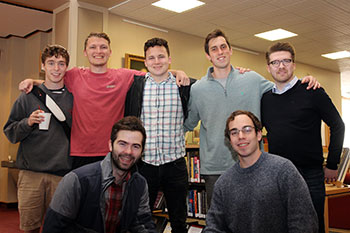 Each year the U.S. Department of State's Bureau of Educational and Cultural Affairs announces the top producing institutions for the Fulbright Program, the U.S. government's flagship international educational exchange program. The Chronicle of Higher Education publishes the lists annually.
Wabash enjoys a high success rate relating to Fulbright applicants. In the previous two years, 33 students completed applications for a Fulbright award to conduct research, study, or serve as an English Teaching Assistant abroad. Of those, 14 were named semifinalists, and 11 were declared Fulbright recipients (one declined to accept another award).
Wabash's 33 percent success rate over the last two years is well above the Fulbright average. According to profellow.com, the acceptance rate for Fulbright scholarships varies by year but averages around 20 percent.
This fall, 16 students completed Fulbright applications and seven have been named semifinalists, marking the third consecutive year in which Wabash has garnered seven semifinalists through the U.S. selection process. Applications have been forwarded to the host countries' Fulbright commissions or embassies for final decisions. Awards are typically announced in March or April.
"It really has been amazing to witness a culture of fellowships emerge on campus," said Albrecht. "The Fulbright program is a vital part of that, because its opportunities are so attractive to our students. When underclassmen see their friends, classmates, or fraternity brothers receive the award – or come close – it sparks more interest and a belief in the possibility of competing and winning."
Over the last seven years, 49 Wabash men have earned international fellowships. The list includes a Rhodes Scholar, 22 Fulbright recipients, 14 Gilman Scholarship recipients, six USTA fellowship recipients, three TAPIF English Teaching Assistantships (France), two North American Language and Culture Assistantships in Spain, and one JET recipient (Japan).