Ten years ago, Heather Thrush arrived on campus with a simple goal: to help people.
Within a year, she was named the College's first retention coordinator. She began coordinating first-year student orientation two years later. Now, she's Associate Dean for Student Engagement and Success and sits largely at the center of Wabash's student retention efforts.
"She is clearly the go-to person on campus for student success," said Todd McDorman, Acting Dean of the College and Professor of Rhetoric. "This work translates into a strong relationship with students that certainly extends beyond their first year."
Others are taking notice, as well. Thrush was named an Outstanding First-Year Student Advocate by the National Resource Center for The First-Year Experience and Students in Transition and Cengage Learning. She is one of 10 recipients nationally to earn the recognition. The award honors educators that exhibit exceptional work in the areas of student learning and development via high-impact practices for first-year student success.
"I'm a person who doesn't mind being behind the scenes," said Thrush. "This recognition is an honor, of course, and it's very humbling."
She knows, perhaps better than anyone on campus, that student retention is everyone's responsibility, not just one dean, professor, or student.
"Connections matter with other students, with faculty, with staff, campus services, with our athletic teams," she said. "You might be the person who keeps that kid around just because of your relationship. The awareness that it's all of our responsibilities to make sure that students are getting what they need out of this place," whether it be new student orientation, Wabash 101, the Wabash Liberal Arts Immersion Program, or anything else that may help an anxious or struggling student successfully navigate campus.
According to Associate Professor of History Rick Warner, Thrush exhibits a willingness to help anyone who has questions.
"Her office door is always open, not only to students but to faculty members such as myself who are working with struggling students," he said. "I have learned so much from her over the years about helping students learn to help themselves, or in other words, helping them to empower themselves. When I talk about my own commitment to first-year students, I always return to the realization that I have learned all of my tricks from Dean Thrush."
Anthony Williams '20 visited with Thrush quite a bit during his freshman year as he struggled with the transition to college. He says that knowing there was someone he could talk to, that someone cared about him made a difference.
"I never had that before in my education," he said. "It made me want to care more. It made me love this place. It made me respect this place, and myself. To find out there is someone on the other side of the desk rooting for me was reassuring. It was nice to be noticed."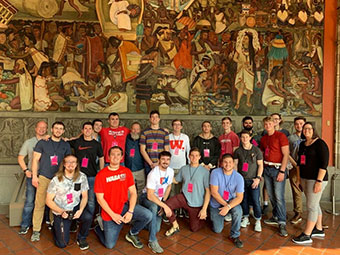 Connecting with students has always been at the heart of Thrush's work with students. Such care goes a long way toward helping students find success on their individual journey through college.
"There seems to be no limit to Dean Thrush's care and concern for our students, nor to the initiative that she shows by establishing, maintaining, and expanding programs and services that give them their best chance at success," said Greg Redding, Acting Dean of Students and Associate Professor of German.
Administered by the University of South Carolina, the National Resource Center for The First-Year Experience and Students in Transition will recognize this year's honorees in February at the 39th Annual Conference on The First-Year Experience in Washington, D.C. In addition to a first-year student advocate reception, Thrush and the nine other winners will participate in an advocate's session, where they will share best practices, instructional methodologies, and stories of student success on campus, as well as take part in a question-and-answer session about the challenges of teaching and college success.