Cooper Smith '23 didn't make it ten words into his Moot Court argument—just past "May it please the court"—before the questions started coming at him.
The first came from Judge Edward W. Najam Jr., Judge of the Indiana Court of Appeals, who made an intimidating sight sitting in front of Smith on the Salter Hall stage along the other black-robed judges, who soon began jumping in with questions of their own.
"I knew they'd ask tough questions, but I thought I'd get to the podium before the questions started," Smith said with a laugh.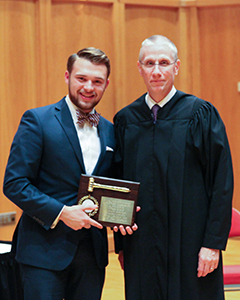 Now in its 26th year, Moot Court is an annual competition where students stand before a panel of judges and argue a legal dispute adapted from an actual case pending before the United States Supreme Court.
This year featured a fictional variation based on New York State Rifle & Pistol Ass'n et al. v. City of New York, a case which revolves around determining the extent to which Second Amendment rights extend beyond the home into public spaces.
To Smith's credit, none of the other finalists—Caleb Dickey '21, Bryce McCullough '23, and Jake Vermeulen '21—made it much farther into their own arguments before heat was applied. The evening's questions were tough, the arguments tangled, and the rebuttals fierce.
That's what happens when you bring together a group of judges that, alongside Najam, include an Associate Justice of the Indiana Supreme Court (Justice Geoffrey Slaughter), a Wabash attorney who has argued in front of the U.S. Supreme Court (Greg Castanias '87), and a Professor of Economics/Chair of Div. III at Wabash (Dr. Joyce Burnette).
But the judges were as generous as they were demanding: at separate points when a participant's memory faltered, Castanias and Najam offered the name of the case in question; both Slaughter and Burnette reworded some of the evening's more labyrinthian lines of questioning for participants.
When the judges reconvened after the appeals, they announced Smith to be the winner—only the third freshman to ever win the competition, and the second consecutively.
Castanias was quick to note the difficulty of the judge's decision. "You would each fit in well among the best advocates that I work with," he said, "including in front of the Supreme Court." Burnette particularly praised the moments when the finalists showed that they were listening.
Slaughter said the event's reputation preceded itself, and he was thrilled he could participate. "This group impressed me. We'll look out when you all get out of law school and go to take the Indiana bar."
"This is a remarkable undergraduate program," Najam added. He noted that Wabash College is one of the few undergraduate institutions with a Moot Court competition, giving an early advantage to students thinking about a career in law.
Though he's got plenty of time to make up his mind, Smith says the competition introduced the idea of a career in appellate work. "I'd never really thought about it before, but in appellate work everyone starts with a level playing field. I like that. It's where analysis shines through, not just research."
Smith has already gotten involved with the Glee Club, the Bachelor, and the Wabash Democracy and Public Discourse initiative in his freshman year. He plans to major in Politics, Philosophy, and Economics (PPE) before attending law school.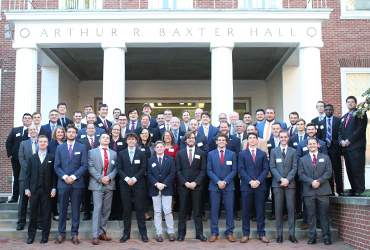 Thirty students participated in the preliminary rounds of Moot Court, which took place over two days on the weekend and featured many guest judges. Event emcee and Professor of Rhetoric Jeff Drury made the case that, in some ways, Moot Court is a signature liberal arts experience. "These students tackled a challenging legal problem, reading through it thoroughly, developing cogent arguments, and exhibiting oral advocacy skills under intense questioning. They did it all as an extracurricular activity, and they did it at 8:30 on a Saturday morning."
This year also marked the first time awarding the Floyd Artful Advocacy Prize, given to a successful advocate who is also kind, tactful, and principled. Vermeulen was the inaugural winner of the Prize.
The annual Moot Court competition is sponsored by the Indiana Association of Wabash Men and the Rhetoric Department.