The President's Distinguished Speaker Series at Wabash College is pleased to present two events featuring native Hoosiers — U.S. Senator Mike Braun and NPR Weekend Edition's Puzzle Master, Will Shortz — during the first week of September.
Senator Braun will speak at 7:30 p.m. on Tuesday, September 3, in Salter Hall of the Fine Arts Center. Shortz, who is also the New York Times Crossword Editor, will present an evening of games at 8 p.m. on Friday, September 6, in Ball Theater of the Fine Arts Center.
Both events are free and open to the public, but require tickets reserved through the Fine Arts Center Box Office (www.wabash.edu/boxoffice).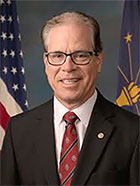 Senator Braun is a first-term Republican representing the state of Indiana. A native of Jasper, Indiana, he majored in economics at Wabash and graduated summa cum laude in 1976, while serving as the president of the student body. He earned an M.B.A. from Harvard Business School in 1978.
He and his wife, Maureen, returned to Jasper where he co-founded Crystal Farms in 1979. He later founded and served as CEO of Meyer Distributing, one of the nation's leading auto parts distributing companies. The Senator served on a local school board and in the Indiana General Assembly prior to his successful run for the United States Senate in 2018.
Will Shortz is a native of Crawfordsville, Indiana, who attended Indiana University. He graduated in 1974 with his self-designed major in Enigmatology — the study of puzzles.
Shortz e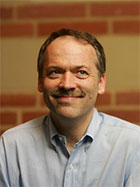 arned a law degree from the University of Virginia in 1977, though he never took the bar exam and instead starting writing and selling puzzles professionally. He wrote and sold his first puzzle when he was just 14 years old, and at age 16, he had begun contributing regularly to Dell puzzle publications. To date, he has written or edited more than 500 puzzle books.
Shortz has written riddles for a major motion picture; appeared in episodes of The Simpsons and How I Met Your Mother; and was the subject of the award-winning documentary, Wordplay. He is an avid ping pong player, who has played the game more than 2,500 consecutive days.
The President's Distinguished Speaker Series (PDSS) was established in 2017 through the generosity of donors to the Giant Steps Campaign, the largest comprehensive campaign in Wabash College history. Upcoming PDSS speakers include author and humorist David Sedaris, former United States Congressman Luke Messer, and Washington Post Columnist Kathleen Parker.