The Princeton Review ranks Wabash College among the best institutions nationally for undergraduate education in its annual college guide.
Inclusion in the Princeton Review's Best 385 Colleges demonstrates that Wabash ranks among the top 13 percent of more than 2,500 U.S.-based four-year colleges. The review includes detailed accounts of the best schools with rating scores in eight categories. Wabash received an overall academic rating of 92 with scores of 99 in the categories associated with teaching, faculty interest, and accessibility.
"Wabash shines again this year in the Princeton Review's Best 385 Colleges guide," said Wabash President Gregory Hess. "What makes us most proud is the breadth of our rankings — from the accessibility of our faculty and the outstanding classroom environment to our exceptional career services and alumni network. This year's guide tells us – loud and clear – that our students are happy, engaged, and getting a tremendous education at Wabash College."
In addition, the Princeton Review's college guide includes lists of top-20 schools in 62 categories, which are based on surveys of 140,000 college students collected during the 2018-19 academic year.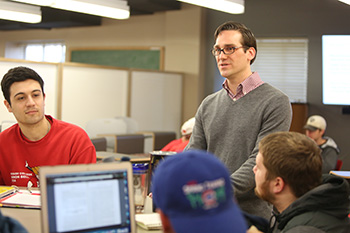 Wabash ranked in the top-20 in 13 categories overall, including six rankings in the top-five nationally.
The liberal arts college for men consistently gets high ratings for its faculty, including No. 3 for the "Most Accessible Professors" and No. 10 for "Professors Get High Marks." Students cited a strong relationship with top-notch faculty, who "always have their doors open for questions" in fostering a wide-ranging and inquisitive educational experience.
Further, the College received high marks for "Best Class Experience," "Great Financial Aid," and "Best-Run Colleges" (all No. 13).
The College's Schroeder Center for Career Development garnered exceptional marks for its efforts, ranking No. 2 nationally in "Best Alumni Network" to go with a No. 3 placement for "Best School for Internships," and occupied the fifth spot in the "Best Career Services" listing.
Wabash was cited as one of the top institutions in the Midwest and was listed No. 29 nationally in "Best Value Colleges."
Among the other top-20 rankings, Wabash ranked No. 4 in "Lots of Greek Life," No. 5 in "Everyone Plays Intramural Sports," No. 10 in "Best College Newspaper," and No. 15 in "Best Health Services."
"What stands out to me about the rankings is how they touch on practically every aspect of life at the College," said Gregory Redding '88, Acting Dean of Students and Associate Professor of German. "We see in them the financial support that makes a Wabash education accessible, the rich and varied academic and residential life, and even the alumni who are eager to give back to their alma mater. Our students embrace the academic challenge of Wabash by studying hard and establishing mentoring relationships with their professors, but they also instinctively understand the holistic nature of a premier liberal arts education. They show this through their activities outside the classroom—in student government, clubs and organizations, fine arts, athletics, and Greek life, to name a few."
Wabash has been featured in every edition of the Princeton Review's college guide since the service was established in 1992.