Wabash College President Gregory D. Hess today announced that longtime Dean of Students, Michael P. Raters, is stepping down from the position he's held for the last 11 years.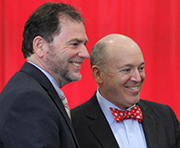 "Mike Raters' professionalism and dedication to Wabash students can be seen in virtually every aspect of campus life," said President Hess. "He has been a leader in our student-focused approach in all that we do and we are grateful for his service."
Associate Professor of German Gregory Redding '88 will serve as Acting Dean of Students until a search for a full-time replacement can be conducted. Raters will continue to serve as a Special Assistant to the President as part of the transition.
A 1985 Wabash graduate, Raters served as Associate Dean of Students for four years prior to becoming Dean in 2008. During his time at the College, Dean Raters established a number of student-centered programs, including the Housing Leadership and Education Program (HELP), Wabash Fraternity Advisors, Wabash Acts Responsibly (WAR Council), Dean's President's Council, and the Mental Health Concerns Committee, to name a few.
"I am proud of our work over the last 15 years at my alma mater," Raters said. "I am especially grateful for the dedicated, creative, and passionate students, alumni, staff, faculty, and administrators with whom I've shared that time and effort. I am confident that we have left Wabash in a better place because of our collaboration and service."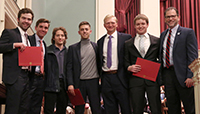 As Dean of Students, Raters oversaw career services during an important period as it evolved into a highly effective Professional Development program. He was also responsible for the Athletics Department during his career, and oversaw the hiring of several successful head coaches in soccer, basketball, and baseball, and was involved with the design and construction of Goodrich Ballpark and Fischer Field. Raters also established the Title IX Office at Wabash, and greatly expanded mental health services. In the last two years, he led the Trustees' Ad Hoc Committee on Campus Life, and helped spearhead a year-long Campus Master Planning effort.
Redding, a 1988 graduate of the College, majored in German as an undergraduate and participated on the cross country and track and field programs. After earning his master's degree and Ph.D. in German Literature from the University of Cincinnati, he joined the Wabash faculty in 2002. He has served Wabash as its Faculty Athletic Representative.
A search for a permanent replacement will begin in early 2020.