The American Council on Education (ACE) announced today that Wabash College professor Ann Taylor has been named one of 39 ACE Fellows for the 2019-20 academic year.
Taylor is the Haines Professor of Biochemistry and Chair of the Division of Natural Sciences and Mathematics. As the first biochemist in the Wabash Chemistry Department, she created the courses and curriculum for Wabash's Biochemistry major.
In serving as Division Chair, she participates in all tenure track hires, reviews and promotions, and serves on the Academic Policy, Faculty Development, Trustee's Academic Affairs and Dean's Advisory Committees. She has served on two accreditation steering committees, ad hoc committees on Philanthropy and Childcare, was a Teagle Assessment Scholar, and served as Chair of the Chemistry Department.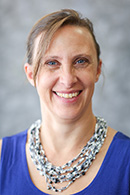 "I'm thrilled to be selected as an ACE Fellow," said Taylor. "Participating will provide me with perspective on the range of leadership opportunities in higher education and the opportunity to see how other institutions foster leadership development among both faculty and students. I am particularly interested in the transition from receiving tenure into a faculty member's first significant leadership role, and models of developing student leadership through course-based activities."
Taylor is also active in pedagogical research. She serves on the Editorial Review Board for Biochemistry and Molecular Biology Education (ASBMB), and was named an Education Fellow for her work on the ASBMB national accreditation exam. She received a grant from the National Science Foundation to study how students integrate knowledge from prior classes as they learn biochemistry. The materials from this grant were integrated into a commercial online learning system. She has presented workshops on teaching college science to graduate students at the University of Tennessee, and regularly publishes case studies in the National Center for Case Study Teaching.
Established in 1965, the ACE Fellows Program is designed to strengthen institutions and leadership in American higher education by identifying and preparing faculty and staff for senior positions in college and university administration through its distinctive and intensive nominator-driven, cohort-based mentorship model. More than 2,000 higher education leaders have participated in the ACE Fellows Program over the past five decades, with more than 80 percent of Fellows having gone on to serve as senior leaders of colleges and universities.
"The ACE Fellows Program epitomizes ACE's goal of enriching the capacity of leaders to innovate and adapt, and it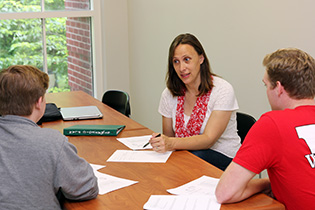 fuels the expansion of a talented and diverse higher education leadership pipeline," said ACE President Ted Mitchell. "Each year I am impressed by how many former Fellows are named to prominent leadership roles, which makes it even more exciting to meet each new cohort. I'm left wondering, 'Where will these Fellows end up?'"
The program combines retreats, interactive learning opportunities, visits to campuses and other higher education-related organizations, and placement at another higher education institution to condense years of on-the-job experience and skills development into a single year.
During the placement, Fellows observe and work with the president and other senior officers at their host institution, attend decision-making meetings, and focus on issues of interest. Fellows also conduct projects of pressing concern for their home institution and seek to implement their findings upon completion of the fellowship placement.