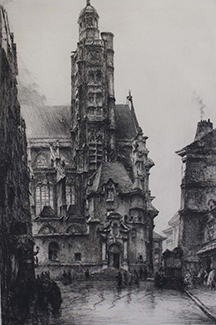 The Wabash College Art Department presents the opening of a student-curated exhibition, Louis Orr's Journey in France: Capturing Humankind's Magnificent Creations. The exhibit debuts with a reception from 6-8 p.m. on Friday, Jan. 18, in the Greg Huebner Gallery in the Fine Arts Center.
The Wabash students, Miles Barilla '20, David Duenas '21, Nicholas Lawson '19, and Zachary McKinney '22, curated this exhibition as part of the class ART-140 Special Topics in Museum Studies with Professor Elizabeth Morton.
Louis Orr (1876-1966), one of America's most important printmakers, is renowned for capturing the scale and magnificence of historic architecture from the perspective of a human witness. In each of his etchings in this exhibition, Orr has juxtaposed humans with massive works of architecture in France. The buildings in these images were designed to surpass the life-spans of their creators, living on for generations to come. They suggest that architecture, the creation of humankind, is more boundless and stronger than humankind itself. In turn, Louis Orr's prints are grander than himself, capturing fleeting moments of the early 20th Century in France for us to see today.
The works in this show come from the collection of Louis Orr's great-nephew, David Orr, Wabash College class of 1957.
The exhibit runs through May 12 and is free, open to the public, and handicap accessible.
The hours for the gallery are 9 a.m.-5 p.m. Monday through Friday.