Tucker '98 Wins Excellence in Teaching Award
by Christina Egbert • August 1, 2018

Share:
Erich Lange '19 can still remember the first day of his first class with Associate Professor of German Brian Tucker '98.
"When I left, my immediate reaction was not, This guy loves German," Lange said. "Of course he does. But rather it was, This guy loves teaching and really cares about his students."
The College saw the same thing and recognized Tucker as the 2018 recipient of the McLain-McTurnan-Arnold Excellence in Teaching Award.
"Those of us who teach subjects yo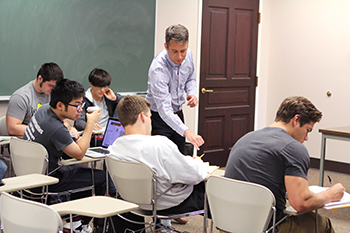 ung men identify with based on their high school experience can count on students showing up to campus, ready to fill our classrooms," Dean of the College Scott Feller said. "Others have to earn it and draw students into their discipline with engaging course work, creative programs, and excellent teaching. Dr. Tucker is the poster child for doing just that."
Tucker joined the Wabash faculty in 2004, right after finishing graduate school. Though he had hoped he would end up teaching somewhere like Wabash, given the nature of the academic job market, actually being a professor at his Alma Mater never crossed his mind.
With one year of funding left in his doctorate program at Princeton, Tucker decided to take a look at job listings to see if there was anything he "couldn't not apply for."
"And when I looked, there was a tenure track position in German for Wabash College. It was a once-in-a-lifetime thing."
Tucker figured the odds were against him in the application process, though. If he happened to be a finalist, he would be flown out to teach a class at Wabash. That was all he was hoping for.
"Fourteen years later, I'm still here," Tucker said.
"The professors I had at Wabash were the people who inspired me, and that's the kind of professor I wanted to be too – someone who pushes students to take their own ideas seriously and who can help them recognize an intellectual spark they didn't see before.
"You never wake up around here and think,I'm the best teacher at Wabash College. There are so many good people doing so many good things."
Receiving the MMA Excellence in Teaching Award added to an already great year for Tucker, who also delivered the 38th Annual LaFollette Lecture in the Humanities in October.
Tucker is the first Wabash professor to deliver the LaFollette Lecture and earn the MMA Excellence in Teaching Award in the same academic year.
"It's only downhill from here," he laughed. "I'm not going to be able to duplicate this year. It's ridiculous to have both of those things, which are two highlights of a career at Wabash, to have them happen in the same year is unbelievable. What's my next act going to be?"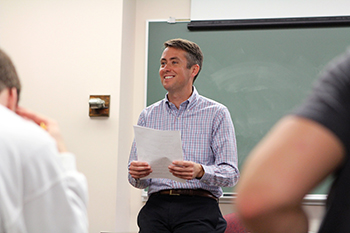 During his time at Wabash, Tucker has taught a wide range of courses in German language, literature, culture, and history. His research, which has been supported by the Fulbright Program and the National Endowment for the Humanities, centers on German literature of the eighteenth and nineteenth centuries, the history of aesthetics, and psychoanalysis.
These topics come together in his book, Reading Riddles: Rhetorics of Obscurity from Romanticism to Freud.
Tucker also regularly leads his students on immersion trips to Europe and takes an active role in advising language students who plan to spend a semester abroad.
His own study abroad experiences made Tucker realize he wanted a life where reading, language, literature, and communicating could be the focus of his work. For that reason, he has made sure other Wabash students have the opportunity to have those same eye-opening experiences – across the ocean and inside the classroom.
"Dr. Tucker demonstrates that German is much more than learning a language," Lange said. "He has an ability to instill a passion in his students regardless of their beginning interest in German. I have never heard anyone say they haven't enjoyed a class they had with him, and I think the enthusiasm students walk away from his classes with can stand on their own."
The Excellence in Teaching Award honors the memories of Reid H. McLain '27, Clair McTurnan 1910, and Kent Arnold '29, and has been given annually to a member of the faculty who has distinguished him or herself by innovative and engaging teaching since 1965.