Wabash College football player Brian Parks was named a 2018 Arthur Ashe, Jr. Sports Scholar by Diverse Issues in High Education magazine.
Parks, a native of Indianapolis, IN, was a second-team Sports Scholar selection in the sport of football, covering all three NCAA divisions. The mathematics major and theater minor will receive his diploma Sunday.
"It is an honor to receive this award," said Parks. "It is a privilege to have my name alongside Mr. Ashe's, and like him, I aspire to unite and bring pride to my culture. People like Mr. Ashe set the stage for young men like me to live courageously and not to be afraid of the impossible."
Parks has earned a prestigious Orr Fellowship, and will receive executive mentorship and participate in a two-year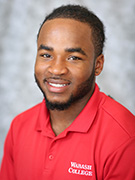 post-graduate curriculum designed to develop understanding and skills vital to the spirit of entrepreneurship and business leadership.
He participated in the Fullbridge@Wabash program where his business plan was named the best by a panel of local entrepreneurs and CEOs through the College's Center for Innovation, Business, and Entrepreneurship.
He is also a Resident Assistant in one of Wabash College's residence halls, treasurer for the African Student Association, and a member of the campus' Malcolm X Institute of Black Studies.
Parks served as a Young Life Leader, through an internship via the Eli Lilly Foundation, where he went to school lunches two or three times per week signing kids up for camp and serving as a mentor. Parks attended clubs and Bible studies weekly throughout the internship, sharing the experiences of being a Christian and a first-generation college student to 30 youth.
A three-year starter at defensive back, Parks helped the Little Giants to a cumulative 38-7 (.844) record during his collegiate career. A three-time all-North Central Athletic Conference honoree, including first-team honors in 2016, Parks finished his Wabash career with 100 tackles (75 solo), two sacks, four tackles for loss, six interceptions, and 26 pass break-ups.
In his four seasons, he help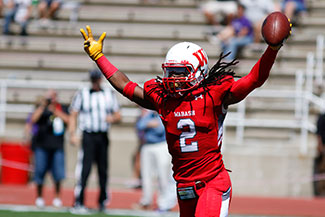 ed Wabash football win one NCAC championship and make two NCAA Division III Playoff appearances, including a berth in the quarterfinals in 2015. He was a team co-captain in 2017.
"Brian is a hard-working, over-achieving, others-first, and, therefore, well-respected student-leader on our campus," said Michael P. Raters '85, Wabash College Dean of Students. "His humble background has kept him humble, and the hard work he saw in others growing up has helped him to have a strong work ethic in and out of the classroom. I find it fitting that he has won an award named for a man and humanitarian with many of the qualities Brian possesses."