When Austin Ellingwood '18 is running at top speed, he can't hear a thing. While the wind rushes around him, all he's thinking about is running faster.
There are some races he doesn't even remember. It's as if he blacked out while running, he says.
Helping his team clinch the 2017 Men's Outdoor Track and Field Championship by winning the 200-meter dash, posting his fastest career time? He remembers that.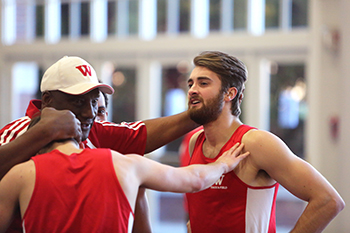 "That was awesome," Austin said. "It was me, Brady (Gossett '19), and a guy from Wittenberg. It was super close. That was one of those races where you hit top speed, see the other person right next to you, and, somehow, you find another gear.
"I almost got disqualified because so many of our guys ran onto the track to hug Brady and me because they knew what our finishes meant. While they were freaking out, we started to hear a bunch of people yelling: 'Get off the track!'"
Austin can't help but laugh when he tells the story, partially because it's funny, but mostly because he never thought it would happen.
As a freshman, Austin was the starting centerfielder for the Wabash baseball team for most of the season and played in almost every game. But during his sophomore year, after 14 years of playing, Austin decided to walk away from baseball.
Knowing he had the potential to be really good, some of the seniors in his fraternity encouraged Austin to consider track.
"I'd always been pretty fast. If I got on base, there was a good chance I was going to steal first pitch. But that was baseball. Baseball fast and track fast are way different."
Austin showed up to his first track practice on a Wednesday. Wednesdays are recovery days for the team, so that first day wasn't too bad.
"But for the next week and a half, I was throwing up during practice. It was just so hard – it's a whole different level of fitness."
Austin's first race? He remembers that one too, though not nearly as fondly.
"When I say my endurance was really not great, I mean it." He laughed. "Coach Morgan put me in the 60-meter dash, which is the shortest race we have. About 40 meters in, I had no more juice. So, yeah, I didn't do so hot."
Now Austin has found success in the 200-meter dash, is half a second away from the school record in the 400-meter dash, which he won at this year's North Coast Athletic Conference Indoor Track and Field Championships, and has nationals in his sights with his fellow 4x400 runners.
"I had no idea I'd be anywhere near as good as I am now," he said. "But I saw that first race as a learning opportunity, and I wanted to come back from it."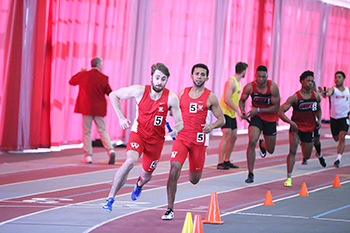 He also has teammate, friend, and fiercest competitor Parker Redelman '18 to thank for his success.
"One of the coaches said I might be a good 400 runner if I worked on my endurance. I didn't think there was any way, and then Parker said, 'There's no way Austin could ever run a 400.'
"So a week or two after that, just because Parker said I couldn't do it, I asked coach to put me in the 400. Since I didn't have a time yet, he put me in the slowest heat possible. I won my heat and the event. The next practice, I moved up to long sprints. So yeah, it was mostly just to prove Parker wrong."
And Parker knows it.
"Just the other day in practice," Austin said, "Parker was giving me a hard time and said, 'You know, you wouldn't even be as good as you are now if it wasn't for me!'
"And I smiled and said, 'I know.'"
"I wasn't always a super confident person," Austin said. "I was uneasy about my decision to go from baseball to track, but now, big decisions are a little less intimidating."
Like the decision to take a job in a field he knows very little about.
Even though "nerd" is a title Austin says he embraces "100 percent," a lot of people only recently realized just how nerdy he is.
"Everyone always asks seniors, 'What are you doing after graduation?' When I say, 'I'll be doing cloud programming,' they're always like, '…oh.'"
Austin will be working for a global consulting company that works with Amazon Web Services. Though he has experiences with coding and programming through previous internships (including one where his title was "Tech Ninja"), this, he says, requires expertise he doesn't have yet.
He is already working part time for the company, working on small projects for about 12 hours a week and spending at least 12 hours a week researching and learning about the field, in order to be ready to hit the ground running full time after Commencement.
"Even during the interview," Austin said, "I told them, 'I probably don't know as much about this as some of the other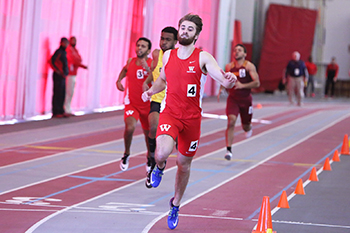 applicants, but I am willing and eager to learn.'"
Austin says the six-person team he's on will probably expand to 10 to 15 people within the next few years as Amazon Web Services continues to grow.
And though he still has a way to go and a lot more to learn, Austin doesn't plan on slowing down either.
"I would eventually like to be the lead of the AWS team, and hopefully work my way up to a position similar to my boss's. He handles a bunch of different teams, which is more stressful, but he's in a very techy role but also a management role, so that's the best of both worlds.
"Then it's only two spots to the CEO," he says with a shrug and a smile.
Austin tends to accomplish what he sets his mind to. (Just ask Parker Redelman!)
So…why not?